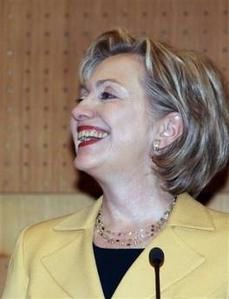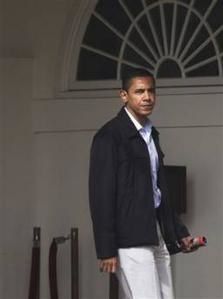 The contrast is striking...

These two photos were taken earlier today : one represents Hillary, smiling in Ankara, Turkey as she listens to her Turk counterpart, Ali Babacan.

The second photo, on the right, was taken in front of the WHite House, and represents Obama, grinning, as he was preparing to leave his Washington residence for a week-end (yes, another holiday !) in Camp David.

One is rising while the other one is sinking...

Barack Obama is depressing the economic actors of his country by taking wrong political decisions. As a result, unemployment is soaring, Wall Street is plunging, and the recession is worsening.

Hillary CLinton, like a super star, is travelling abroad, gracious, beaming, with such a radiant smile, more popular than ever, meeting the world leaders and foreign ministers, developing her international aura.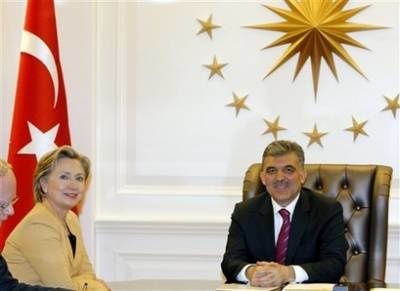 U. S. Secretary of State Hillary Rodham Clinton, left, and Turkish President Abdullah Gul look toward cameras during a meeting in Ankara, Turkey, Saturday, March 7, 2009. President Barack Obama will visit Turkey within the next month, Clinton said Saturday, in a sign of improving ties between two NATO allies.(AP Photo/Kerim Okten, Pool)


One is pitiful, desperately trying to look presidential, but with no success.

The other one simply looks like the president she should be.

Over the last few weeks, it has become more and more obvious that the American voters have made the wrong choice.

But, alas, now it is too late, and there is nothing they can do but wait, another four more years...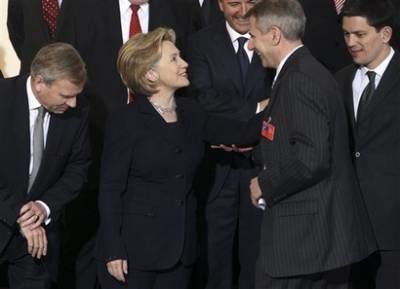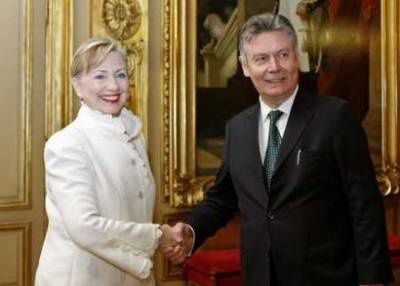 These two photos represent Hillary in Brussels on Wednesday, March the fourth.


Looking at her, and seeing how happy she is, how perfectly comfortable she feels in her new role, I cannot help thinking that revenge must be sweet for the woman who was so unfairly defeated a few months ago...

Tomorrow is the eighth of March, that is to say International Women's Day...

No regret ?