Ecstasy : this is the word which sums up the general mood in the French and American media this morning !

Mister O.'s speech pronounced in Congress yesterday is a triumph !
He received a standing ovation, and even Republicans stood up to applaud him !

What a remarkable unanimity : I've found no trace of criticism yet, no reproach. Everything he said is wonderful and will reassure all Americans.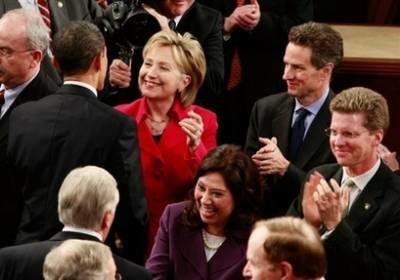 US President Barack Obama greets US Secretary of State Hillary Clinton (2nd L) and Treasury Secretary Timothy Geithner (2nd R) as he arrives for a joint session of Congress. Obama vowed to lead a fearful America through its torment to emerge stronger than ever, declaring a "day of reckoning" after an age of excess ended in economic meltdown.(AFP/Getty Images/Mark Wilson)


He is going to reduce the deficit while spending more.

He is going to make the economy recover while plunging it more into debt.

He is going to reduce taxes, while increasing federal spending and helping everybody, from bankers to carmakers, States, cities...

He is going to put an end to the odious wars started by George Bush while sending more troops in the regions where these wars are taking place.

So apparently, noone was struck by the tremendous number of contradictions and nonsense contained in his speech.

As days go by, this man is more and more looking and sounding like a con man and a fraud, but noone seems to notice.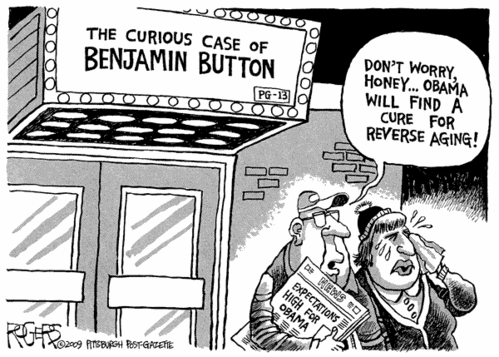 The MSM is still in a frenzy.

Now it remains to be seen what the reactions of mainstream Americans will be : let's bet they will not be deceived nor hyptonized by beautiful speeches !