Hillary has just landed in Beijing...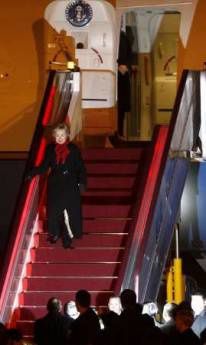 U.S. Secretary of State Hillary Clinton arrives at the airport in Beijing February 20, 2009. Clinton is on a week-long trip to Asia with stops in Japan and Indonesia, South Korea and China. She is focusing on expanding cooperation with Asia to deal with the global financial crisis, addressing growing concerns about a possible North Korean missile test as well as discussing issues such as climate change.REUTERS/Oliver Weiken/Pool (CHINA)

Fourteen years after...

Fourteen years after her memorable speech on human rights at the United Nations Conference on Women, in september 1995.

But Hillary is not only different physically from the one she was, then :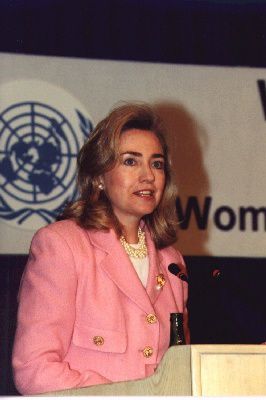 Her speech, too, has changed.

Don't expect this time to hear her denounce the violation of human rights by the Chinese government.

Arriving in China on her first visit as US secretary of state, she promised a new relationship between the two countries, one she considers to be the world's most important of the 21st century.

Curiously, she landed in Beijing from South Korea, where she lashed out at the North Korean "tyranny" of its leader Kim Jong-il.
But in contrast she offered a conciliatory hand of friendship to Mr Kim's ally China, contradicting hostile policies both she and President Barack Obama promised during their presidential campaigns last year.


She said she would continue to press China on issues such as human rights and Tibet, but added: "Our pressing on those issues can't interfere on the global economic crisis, the global climate change crisis and the security crisis."


I don't know what Bill her husband must be thinking of her tonight : he, who began his first term promising to "get tough" with China over issues from human rights to trade.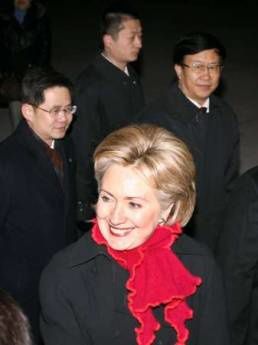 But Hillary is not really Hillary these days, and working for Mister O. has made her forget a lot of her former beliefs, commitments and values, and this is a pity...

What is even more terrible is that she has even forgotten her own actions, her own protests years ago, in 1995, when she stood defiant and admirable, as First Lady of the United States, condemning aloud the Chinese violation of women's rights...

But today, of course, the situation is different, and the economic reality has become much more important than the question of human rights...



Washington has been left with little choice but to improve ties in the wake of the financial crisis, which has seen the huge trade imbalances between the two explode in a debt crisis in the US and an export crisis in China.

Let's not forget that China now owns more than $600 billion of US government debt, and will be called on to buy more as President Obama's stimulus package inflates the budget deficit.

It is clear that America now needs China badly, and Hillary cannot do otherwise ! She is forced to be very careful not to offend the Chinese government...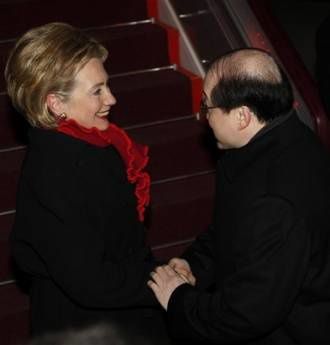 U.S. Secretary of State Hillary Rodham Clinton, left, shakes hands with Chinese Assistant Foreign Minister Liu Jieyi after her arrival at the airport in Beijing, China, on Friday February 20, 2009. Clinton is on a three-day visit in the Chinese capital.(AP Photo/Greg Baker, Pool)

It is not her fault, of course, but she was perfectly aware of that imbalanced situation between China and her country when she accepted the job.

It means she knew she would have to be obliged to go to China, and to humiliate herself, pretending there is no problem of human rights in this country.

When we know Hillary, and everything she has done in her life and career, this attitude is really disappointing...

Hillary, where are you going ?