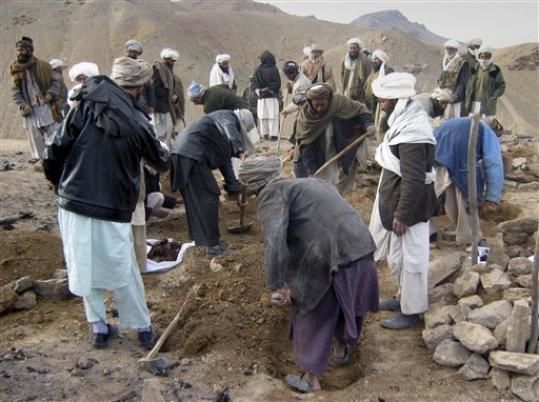 In this photo obtained by The Associated Press from the strike site in Herat province, Afghans dig graves for the victims who the villagers said were killed in an airstrike, in Gozara district of Herat province, west of Kabul, Afghanistan on Tuesday, Feb. 17, 2009. U.S. Brig. Gen. Michael Ryan traveled to western Afghanistan on Wednesday to investigate claims that six women and two children were killed in a U.S. airstrike, officials said. (AP Photo)




In a previous article written five days only after Obama's inauguration, we denounced the tragic consequences of one of his first decisions concerning America's foreign policy : a US missile strike in Pakistan had killed civilians in a region near the Afghan border, because terrorists were suspected to hide there. The MSM had not said one word about it, for it would have seriously damaged the image of their idol as a pacifist, or at least the pacifist he pretended to be during the campaign.

You can read this previous article here : http://europumas.over-blog.com/article-27142025.html


Alas, the tragedy is going on...

The man who will soon deserve to be nicknamed "the Butcher of Washington" is continuing to show his non violence policy in this explosive region : today he announced that 17,000 additional troops will be sent to Afghanistan, but above all, two days ago, he managed to kill 12 Afghan civilians, including one child, in one of his "pacifist" airstrikes.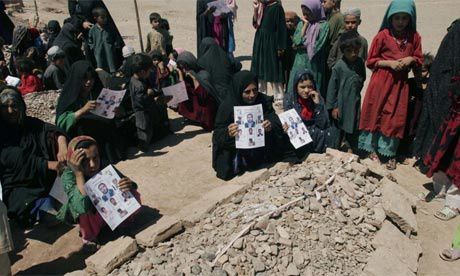 Afghans at the graves of family members allegedly killed after a US raid on Azizabad in Afghanistan in August. Photograph: Fraidoon Pooyaa/AP


You can read about this sad story here : (French and English articles)
http://europumas.over-blog.com/pages/UN_BOMBARDEMENT_AMERICAIN_TUE_12_AFGHANS_DONT_UN_ENFANT-1114253.html


However, you don't need to worry.
You are not going to hear about this tragic event in coming days. Obama will be able to carry on a silent war with the complicity of his journalist friends who were so quick to denounce George Bush's slaughters in Irak.

And another reason for this silence is simply that the MSM has found something much more important to debate about.
And you are going to hear a lot of it in coming days...

Of course, I am thinking about the pseudo scandal of the "racist" caricature of Obama published by the New York Post...

But it's normal, isn't it ? : a caricature is by far more important than the deaths of a child and of a dozen Afghans nobody cares about !