As I woke up this morning, I felt a great emotion and relief, when I thought about my American friends...

Because, I am sure of one thing today : THEY ARE SAVED !


Yes, they are, thanks to their Saviour, who accomplished the mission for which he was elected : he signed the magic stimulus bill which is bound to make America recover from its economic woes.

I wonder why nobody had thought about it before.

He has done it !

He has found the miraculous solution that no government anywhere has managed to find so far.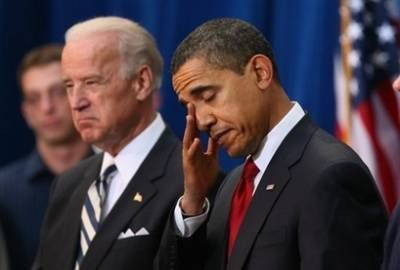 President Barack Obama (R) stands on stage with Vice President Joe Biden before signing an economic stimulus bill in Denver, Colorado. Obama will try to ease concerns over US protectionism when he visits Canada later this week, a senior White House official said.(AFP/Getty Images/John Moore)

The way Obama looks, his physical attitude, are revealing : he seems desperate, as if he was thinking : "Oh God ! What am I about to do ?" And have a look at Biden's face ! What a lot of disgust !

And, as a result, the Selected people today is...
the American people !

Congratulations to them !
Contrary to the French who have elected a dwarf as their president, Americans have been wise enough to find their Messiah.

They were able to recognize him when they saw him.

And from now on, they can sleep quietly and have sweet dreams, and they do not need to worry for their children.

Everything will be all right now..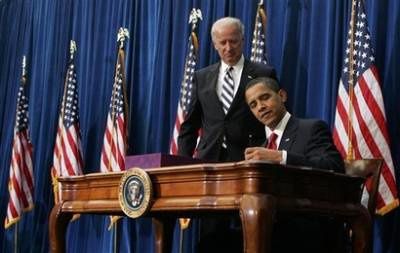 Vice President Joe Biden stands behind President Barack Obama as he signs the $787 billion economic stimulus bill at the Museum of Nature and Science in central Denver Tuesday, Feb. 17, 2009.

(AP Photo/Darin McGregor, Pool)
Have a look at his face, and Biden's expression ! Not very enthusiastic, are they ?
Thank you, thank you again and again, Mister O. !