Nobody has forgotten Hillary's 1995 speech in Beijing asserting that "women's rights are human rights."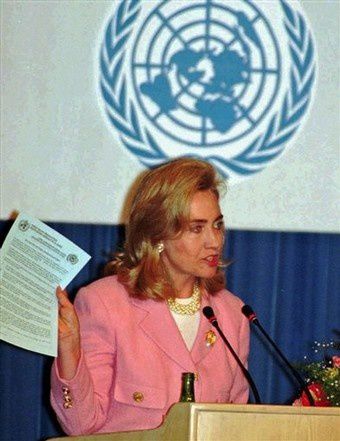 Hillary in september 1995 in Beijing at the United Nations World Conference on Women.



Since then, she has remained an icon for all women in this part of the world.

Today, Hillary is going back to Asia, this time not as first lady but as the new US Secretary of State.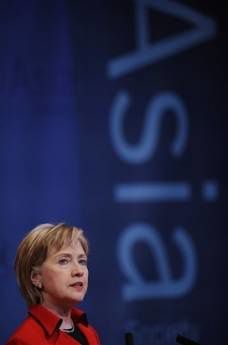 Secretary Of State Hillary Rodham Clinton speaks to the Asia Society, Friday, Feb. 13, 2009 in New York. Clinton's first trip abroad as President Barack Obama's chief diplomat is expected to emphasize the administration's interest in Asia while probably producing no major policy changes.(AP Photo/Stephen Chernin)


This is her first foreign trip as the nation's top diplomat.



Talks in China are expected to focus on building a broader relationship with Beijing, departing from the mainly economic and trade issues that have dominated the past several years of U.S.-China relations.

State Department officials said Hillary Clinton will address human rights and global climate change issues with Beijing.

Hillary Clinton's trip also aims to reassure allies in the region and build new strategies in dealing with the world financial crisis.

North Korea's nuclear program is expected to be a central part of discussions in South Korea, Japan and China.




Clinton said her trip through east Asia demonstrates that U.S. President Barack Obama's administration will devote significant time to working with the region's governments.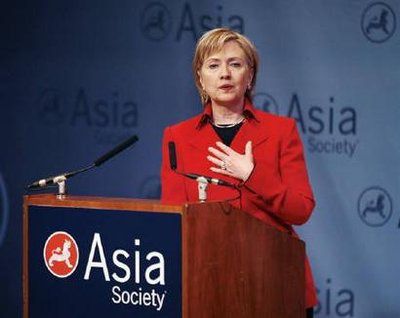 In her speech Friday, Hillary said America's capacity to help solve the world's major challenges - from the financial crisis to terrorism to climate change - depends on decisions being made in Asia.

Hillary said she intends to press for "robust" and "rigorous" engagement when she meets with Asian leaders.

In a series of high-level administration discussions to press her case, Hillary Clinton has contended that the complex issues related to China should fall under the nation's top diplomat, not economic officials, who controlled them during the Bush years, or others, the people familiar with the conversations said.

In her overture to the East, Hillary may have decided that the U.S.-China relationship offers a special opportunity to build a lasting diplomatic record, said Asia specialists inside and outside the government.






Hillary Clinton wants a new focus on issues such as climate change, energy, human rights and China's repression of Tibet. She wants to engage with the Chinese on difficult economic issues, including currency values, a sore subject after Treasury Secretary Timothy F. Geithner accused China during his confirmation hearing last month of manipulating its currency.

She is seeking to forge a new U.S.-Chinese agreement on climate change at a moment when the Chinese fear that any threat to the economy could jeopardize social stability. Hillary is bringing the administration's new climate change envoy, Todd Stern, on the trip to show her seriousness.

But on the question that defined her early involvement in China, Hillary plans to raise the difficult subject of human rights only in passing, if at all, on this trip, officials said. Nonetheless, they said, she considers it a top concern.

In her 1995 speech, Hillary Clinton accused China of curtailing women's rights, including through its one-child policy. Last spring, after China's crackdown on Tibetan protesters, she urged President Bush to boycott the opening ceremony of the 2008 Beijing Olympics.

She has also been tough on Chinese leaders on economic issues, complaining about their trade and currency practices. She said China's huge holdings of U.S. Treasury bonds were causing "a slow erosion of our own economic sovereignty."

Beijing is well aware of Hillary Clinton's record, but Chinese analysts said leaders were pleased with her decision to make Asia her first stop as secretary of State. They hope that what they see as a positive relationship through the Bush years can continue, analysts said.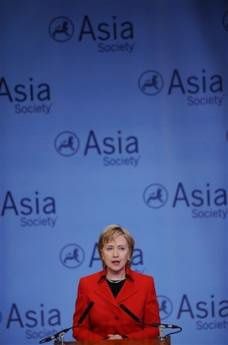 Chu Shulong, director of the Institute of Strategic Studies at Qinghua University in Beijing, said Chinese anxiety about Clinton after her 1995 address eased after a 1998 trip in which she accompanied President Clinton on a state visit.

"The Chinese leadership, including [then-President] Jiang Zemin, got along very well with her," Chu said.




Let's hope Hillary will succeed in her first mission...Let's hope too she will continue to travel as much as possible in coming months, so as not to be involved in the economic disaster that Obama and his irresponsible Congress are about to bring about, with their costly, inefficient, stimulus plan.