THE OBAMAS FLY TO CHICAGO FOR A VALENTINE'S DAY WEEKEND
In order to celebrate Valentine's Day and the passing of his stimulus by Congress, the president of the United States has gone on holiday again, with all his family.

It is clear now that the presidency is not a requiring job, as Obama has so far spent more time on holiday than in the Oval office since he was inaugurated on January 20th.

Yesterday, the Obama couple, first tweens Malia and Sasha, and first mother-in-law Marian Robinson departed the White House on Marine One, with their ultimate destination chez Obama in Hyde Park, Chicago.


Their holiday will last four days...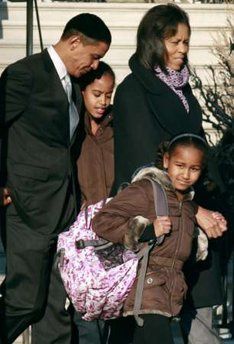 U.S President Barack Obama (L) walks with first lady Michelle Obama (R) and their daughters Sasha (front) and Malia towards Marine One on the South Lawn of White House in Washington, February 13, 2009. The first family is travelling to their Chicago home for the President's Day long weekend.REUTERS/Jason Reed (UNITED STATES)


As the first family exited the residence and walked to the helicopter, a reporter shouted -- above the din from the helicopter -- for a reaction to the House passage of his stimulus package.

The president gave a thumbs up with his right hand and said "thumbs up."

Another reporter shouted out the observation that the bill didn't get one Republican vote.

Mr. Obama did not react.

The Obama ladies boarded the plane before he did. As he entered the Marine chopper, he stooped purposefully, making certain not to bump his head. (A mistake he did not avoid at the beginning of this turbulent week.)

The Obama family will be spending three nights in their $1.65 million Hyde Park home for the Valentines Day weekend, their first home visit since before the inauguration. The last time they were in Chicago as a family was Jan. 3rd.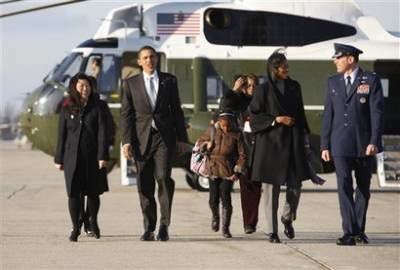 President Barack Obama, and family, walk to Air Force One at Andrews Air Force Base in Maryland, Friday, Feb. 13, 2009, for a trip to Chicago. From second from left are, the president, his daughter Sasha, his mother-in-law Marian Robinson, and first lady Michelle Obama.(AP Photo/Lawrence Jackson)


As much as possible, aides say, this will be a friends and family weekend for the Obamas. There will be no public events. On schedule for Saturday night is a Valentine's date for Mr. and Mrs. Obama at a Chicago restaurant, the identity of which is guarded like a state secret.

Last year, the Obamas went to Blackbird for their Valentines Day dinner. They also are known for frequenting the Italian restaurant Spiaggia.


Aides say that Mr. Obama's weekend in Chicago will be very much like his weekends before he was president. He will likely play basketball and see friends –- the Nesbitt and the Whitaker families.

I hope he will also have time to visit other neighbours, like William Ayers, the former terrorist, Tony Rezko, in his prison, and Jeremiah Wright, his racist pastor...

The president will receive daily briefings. Along for the trip will be press secretary Robert Gibbs, senior advisers/Chicagoans David Axelrod and Valerie Jarrett, deputy chief of staff to the First Lady Melissa Winter, and other aides.

I do not know yet who is paying for the trip of all these persons, probably American taxpayers, whose money is wasted, first, to finance the Obama's family holiday, and then, an extravagant stimulus plan which will make America sink like the Titanic.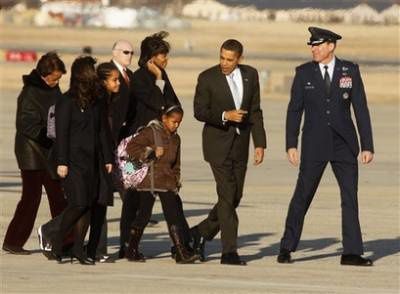 President Barack Obama walks with first lady Michelle Obama, his daughters Sasha and Malia, Andrews Air Force Base Commander Col. Steve Shepro, right, and his wife Helen Shepro, second left, to board Air Force One at Andrews Air Force Base, Friday, Feb. 13, 2009. The woman far left is unidentified.(AP Photo/Gerald Herbert)



Mr Obama recently said that "my Kennebunkport is on the South Side of Chicago".
"Our friends are here. Our family is here. We are going to try to come back here as often as possible ... at least once every six weeks or couple months," he said.

All right, but...

Once again, Who is funding all this "non official" traveling?
President Obama's abuse of power has started quite early. Three weeks and he has traveled to how many cities?
Perhaps the newly elected President has forgotten Americans are in a "recession" or perhaps HE isn't !

It is logical, as Obama is not used to paying anything, so it is easy for him to waste thousands of dollars every day.
Let us remind you that the Obama's family lives in a Chicago mansion they say they own, but in fact it belongs to Tony Rezko's lawyer (a lie that the MSM has totally forgotten to mention !)

But never mind...

We must try to forgive Obama... and understand why he has such a need for vacation...
He is simply exhausted ! He has been president for...
... less than one month !

And Michelle probably needs a rest too, she is such an active, dynamic first lady !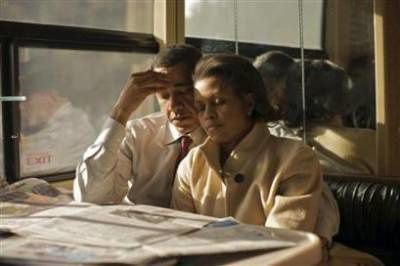 (Callie Shell/Aurora Photos for Time/Reuters)