As days go by, it is becoming more and more obvious that Hillary has made a tragic mistake giving up her prestigious Senate seat to become a member of the Obama administration.

Obama has chosen to plunge America into an inevitable disaster, wasting trillions of dollars without any restraint, with the complicity of an irresponsible Congress.

The bill will have to be paid in a few months, when everybody realizes that the country is overwhelmed by its gigantic debt owing to a totally inexperienced president who was elected simply because people believed in his promise of change.

And then, Obama and his administration will become more and more unpopular and the Democratic party will lose its credibility again.

And Hillary will be associated with this disaster.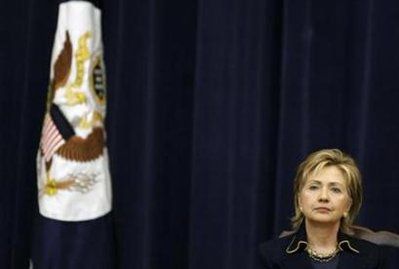 Hillary's choice to work for this fraud is all the more a mistake as she has been treated with contempt by Obama since the very day she became Secretary of State.

Obama has deliberately decided to humiliate her, to weaken her, as Dick Morris has recently revealed :
http://europumas.over-blog.com/pages/A_QUOI_SERT_HILLARY_CLINTON___HILLARYS_INCREDIBLE_SHRINKING_ROLE-954038.html


She only plays a figurative role : she does not do anything, she has been replaced by special envoys who represent Obama's abroad, and Hillary has nothing to say.

She does not control anything : she does not lead America's foreign policy at all.

She was placed here in order to be obliged to shut up. Obama wanted to get rid of her, and he has managed to.

I wonder how people like the Clintons, with all their political experience and knowledge of how it works, may have committed such a mistake.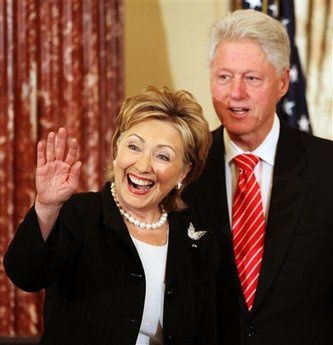 Secretary of State Hillary Rodham Clinton and her husband, former President Bill Clinton, acknowledge guests before her ceremonial swearing-in at the State Department, Monday, Feb. 2, 2009, in Washington. (AP Photo/Haraz N. Ghanbari)