OBAMA TAKES A BREAK (AFTER LESS THAN 3 WEEKS) !
Obama has had enough.


He has been in the White House for less than three weeks, and yet, he is already leaving for the week-end, on vacation, with Michelle, her mother, their daughters and a few friends...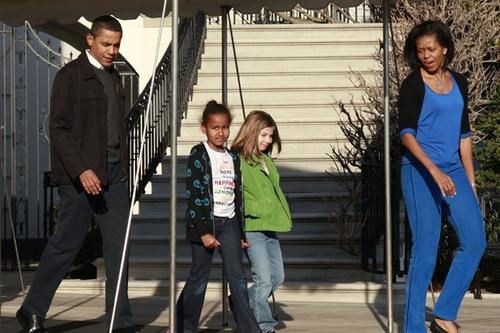 President Obama, First Lady Michelle, daughter Sasha, and an unknown but presumably non-hostile friend of Sasha's were seen boarding Marine One (the presidential helicopter) yesterday afternoon around 3:45pm.



Their destination ?

Camp David. The presidential retreat.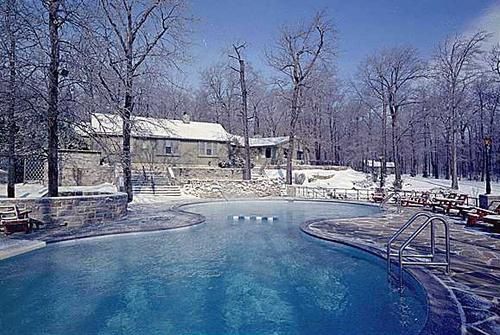 "Retreat" ?


Already taking a break after only two weeks ?

As he told a group of school children the other day : 'We were just tired of being in the White House' !


He was speaking to group of excited seven-year-olds before discussing Batman and reading them a book : doesn't he remind you of someone else, reading a book to school children while the country is badly hit ?


I'm sure he wants to break Bush's record !




In reality, Mister Obama has not realized yet that he has become President of the USA.


Next week, he intends to resume campaigning.


Next week, Air Force 1 will be rolling out of the hangar to take him on four trips.


On Monday and Tuesday, he plans day trips to Elkhart, Ind., and Fort Myers, Fla., to pitch his economic recovery plan.



On Thursday, he returns to Springfield, Ill., where he served as a state legislator, to mark Abraham Lincoln's 200th birthday ; then back to Chicago, to celebrate Valentine's Day with Michelle...


"Sounds like the good old days, doesn't it?" press secretary Robert Gibbs said to reporters at his Friday briefing.

"He's a bit of a restless soul," , Gibbs added, speaking of Obama's state of mind at the moment.



O.K. It's fine to get away.
It's fine to "get some time to collect your thoughts."


However, who is going to pay ?


Taxpayers, who are already broke, will pick up much of the cost of trips for the use of Air Force One, including the largest share of the $35,000 per hour cost of operating Air Force One and thousands of dollars per hour for additional costs to provide security and other support.
This information is from 2004. Now, it is certainly much more... maybe, between $40,000 and $50,000 per hour !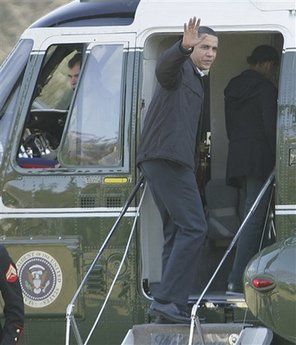 President Barack Obama boards Marine One on the South Lawn of the White House in Washington, Saturday, Feb. 7, 2009. The First Family was preparing to fly to Camp David for their first visit and overnight stay.(AP Photo/Lawrence Jackson)
How much does the presidential helicopter cost ?

Yesterday, the president gave a short speech on his way out.
"Nice day," he said.


Nice day, indeed !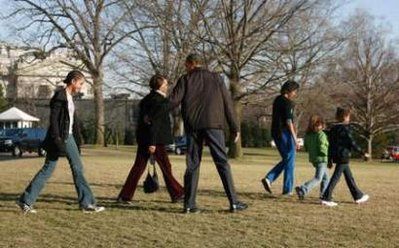 (L-R) U.S President Barack Obama's daughter Malia, his mother-in-law Marian Robinson, U.S. President Barack Obama, first lady Michelle Obama, an unidentified friend and younger daughter Sasha walk to Marine One on the South Lawn of the White House in Washington, February 7, 2009. The Obamas are spending their first night at the Camp David Presidential retreat in Maryland.REUTERS/Jason Reed (UNITED STATES)



The trips appear to be an admission that Obama's honeymoon period in Washington evaporated more quickly than his advisers ever imagined : an intensifying partisan debate over his economic recovery plan, three of his nominees forced to withdraw...
As a result of these "nice days", Mister O. already needs to go to Camp David, to rest a little.

Well, if he is (already) so tired, so fed up...
... why does he not simply admit that he is not fit for the job and never come back from his retreat ?