The Obama family is quite extended, and some family members have apparently not climbed the social ladder as easily as Barack.

Remember his aunt who was an illegal immigrant in the USA ?

Remember his half-brother living in a shack in Kenya and earning one dollar a day ?

Well, apparently, this man is so poor and destitute that he may have found some comfort in drugs, as he has just been arrested for alleged possession of marijuana Saturday near his home in a Nairobi shantytown, Kenyan police officials said.

George Obama, who is in his 20s and barely knows the president, had one joint of marijuana on him, said Joshua Omokulongolo, the police chief in the area.
"He is not a drug peddler," Omokulongolo told The Associated Press. "But it's illegal, it's a banned substance."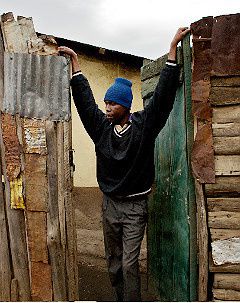 George Hussein Onyango Obama as busted for alleged possession of marijuana Saturday near his home in a Nairobi, Kenya shantytown. He denies the allegations.




Speaking from behind bars, Obama denied the allegations.


"They took me from my home," he told CNN, "I don't know why they are charging me."
George Obama and the president share the same father, who died in a car crash in 1982 when George was just six months old. The president has met his younger half-brother during trips to Kenya to track his family roots but the two are not close.
Several of President Obama's Kenyan relatives went to Washington, D.C., for his inauguration, but George was not among them. He lives in Huruma, a section of Nairobi, where he has said he is studying to be mechanic.


Of course, Obama is not responsible for the behaviour of his brother, but what we learn from this piece of news is that he has not done anything to help him, although he is now president of the most powerful country in the world.
In fact, so far, Obama has preferred to publicize the White half of his family, like his recently deceased grandmother, and chosen to hide the Black one.

Why ?
Is he afraid they might make revelations on his birth ?