IS HILLARY LAUGHING AT US ?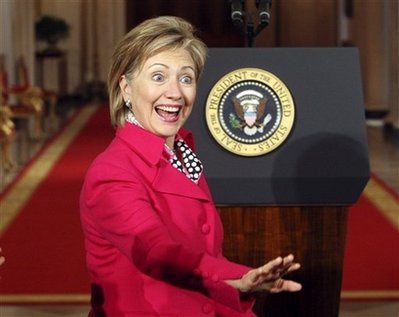 Secretary of State Hillary Rodham Clinton waves as she walks past the podium to participate in the signing of the Lilly Ledbetter Bill for equal pay for equal work Thursday, Jan. 29, 2009, in the East Room at the White House in Washington.(AP Photo/Pablo Martinez Monsivais)

I wonder how far Hillary is going to go contradicting herself...

During the presidential campaign, she famously ridiculed Obama for being naive enough to suggest direct talks with Iran, is softening her tune.

I'm sure nobody has forgotten the primary debates, during which she accused her former rival of lacking foreign experience.
She made it clear that his proposal to talk with the leaders of countries like Iran was quite dangerous, and was a proof of how incompetent he was in that field !

On Monday, the new president offered a diplomatic opening to Iran during an interview on Al Arabiya, the Dubai-based satellite TV news channel. In his first major television interview, Obama echoed the language of his inaugural address when he said:
"If countries like Iran are willing to unclench their fist, they will find an extended hand from us."

And, what do you think was Hillary's reaction ?


Asked about the president's remarks during her first news conference as secretary of State on Tuesday, she said :
"There is a clear opportunity for the Iranians, as the president expressed in his interview, to demonstrate some willingness to engage meaningfully with the international community. Whether or not that hand becomes less clenched is really up to them."


Ah, what a difference a few months make !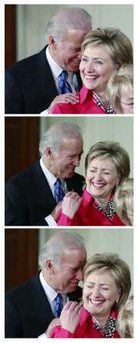 Yes, indeed... what a difference a few months make ! Ennemies of the past... have become close friends...
Combination images show U.S. Vice President Joe Biden and U.S. Secretary of State Hillary Clinton (R) sharing a laugh during the Lilly Ledbetter Fair Pay Act signing ceremony in the East Room of the White House in Washington, January 29, 2009.REUTERS/Jason Reed (UNITED STATES)

Laugh, Hillary, laugh...

But, are you sure you are not laughing at us ?