OBAMA : "IN CHICAGO, WE ARE BETTER THAN IN WASHINGTON !"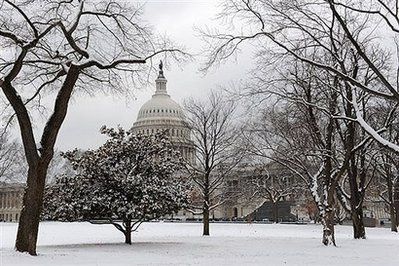 Some destructive ice and snow storms are currently hitting the USA,

This severe winter storm first hit Philadelphia on Wednesday, and left more than a million customers in the dark before barreling into the Northeast, delaying flights and turning the morning rush into the morning slush as communities braced for the worst.




The storm has been blamed for at least 24 deaths and a glaze of ice and snow that caused widespread power failures from the Southern Plains to the East Coast. Authorities said it could be a week before some communities have electricity again.


So, what does the new president think about it ?

It makes him laugh and joke !


Here is what he said this morning, after learning that his two daughters would not go to school today because classes had been canceled due to the ice and snow storm in Washington D.C :


http://europumas.over-blog.com/pages/OBAMAS_DAUGHTERS_VICTIMS_OF_THE_SNOW__LES_FILLES_DE_OBAMA_VICTIMES_DE_LA_NEIGE_-1043725.html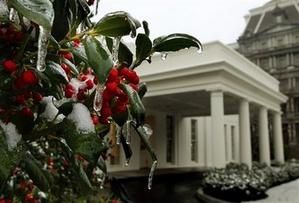 Ice covers Holly bushes and paths leading passed the West Wing of the White House in Washington, Wednesday, Jan. 28, 2009, after an ice and snow storm moved through the Washington area overnight. The Eisenhower Executive Office Building is at right.(AP Photo/Ron Edmonds)



I have recently been the victim myself of a car accident due to icy roads, and I can still feel the trauma, even several days after.
That's why I find Obama's words particularly uncalled-for and heartless. They may really hurt those who have lost dear ones in accidents due to bad weather conditions, of those like me who have had an accident sliding on the snow or on the ice, and have been wounded or shocked.


I read several comments left on newspapers or television channels' blogs tonight, and I realize that a lot of Americans agree with me, and think Obama's remark was useless and stupid, even insulting for those who live or work in Washington.
Mister Obama seemed to blame people in Washington for the closing of the school, as if they were not courageous enough, or too lazy because they decided it was better not to take risks, and to tell parents to keep their children at home, for roads were not safe.
In some way, he told people in Washington : "Shame on you. You cancel school simply for a little ice. In Chicago, people always work whatever the weather, and schools are never closed because of the snow. Things must change in Washington : Chicago is better" (so if it is true, why did he not stay there ?).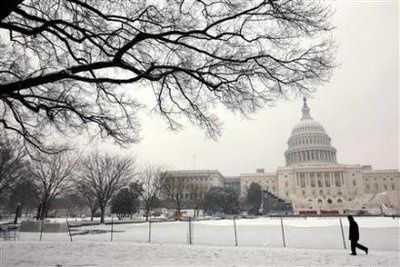 If Mister Obama had driven a little more often in his life instead of having chauffeurs, he would have known that it is really risky to drive on icy roads. If he had walked a little more, he would have known that you can slide and fall only after a single step, when streets are really covered with icy snow.


But, it is not surprising to see him react like this : what does he know about "real life" ?


Obama, in fact, was quite irritated with the fact classes were cancelled, and his daughters had to stay at home. Why ? Isn't there anybody to look after them at the White House ?
Now, I've got an idea : if he does not want classes to be cancelled, he'd better copy what his "pal" Sarkozy is doing in France.
Tomorrow, there will be a very important strike nationwide which will provoke the closing of a lot of primary schools. But Sarkozy has decided to help the parents who have no child care solution : a law has been passed, aimed at guaranteeing a minimum level of public services, at school and in public transport (in theory it means no school should be closed).

So why does Obama not do the same ? He is the president of the USA, after all !