HILLLARY HAS LEARNT TO SPEAK THE OBAMIAN LANGUAGE
I am starting to repeat myself, but what else can I do ?
Change we can believe in... Where's the change ?

It now seems obvious that there will be no change in the US Middle-East policy :
sending special envoys, condemning Hamas, and encouraging Israël to go on slaughtering babies, children and women, thousands of innocent people...


It is a pity, but I am awfully disappointed by Hillary's first words on the situation in the region, which she certainly borrowed from her boss.

No originality... The same old words we heard from George Bush and Condoleezza Rice...

Hillary Clinton has just given her first news conference at the State Department.
And what did she say ?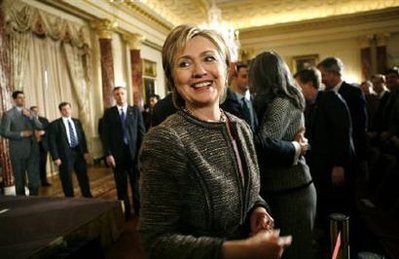 U.S. Secretary of State Hillary Clinton smiles as she works a rope line with U.S. President Barack Obama at the State Department in Washington January 22, 2009.REUTERS/Kevin Lamarque/Files



She said that Israel had a right to defend itself and that Palestinian rocket attacks from Gaza on the Jewish state could not go unanswered.
Clinton spoke as a fragile cease-fire ruptured between Israel and Hamas-ruled Gaza on the same day as President Barack Obama's special envoy George Mitchell arrived in the region to try and shore up the truce.
"We support Israel's right to self-defence. The (Palestinian) rocket barrages which are getting closer and closer to populated areas (in Israel) cannot go unanswered," Clinton said in The top U.S. diplomat, whose comments may be seen by some as giving Israel a green light to once again pound Gaza, accused Hamas of "offensive" action against the Israeli Defence Forces on the border.
"It is regrettable that the Hamas leadership apparently believes that it is in their interest to provoke the right of self-defence instead of building a better future for the people of Gaza," said Clinton.

Clinton said the short-term U.S. objective was to get a durable cease-fire, adding that the Obama administration was concerned about civilian casualties on both sides and the humanitarian suffering.
Asked about the humanitarian plight of Palestinians in Gaza, Clinton said the United States was looking to increase assistance there but did not indicate how much more funding was available or when the aid would be delivered.
"The United States is currently the single largest contributor to Palestinian aid and we will be adding even more because we believe that it's important to help those who have been damaged and are suffering," she said.

So, to sum up Hillary's words :
the USA is encouraging Israel to go on killing Palestinians, and meanwhile, Americans are providing assistance to those who have been wounded...

I really think that Hillary should be ashamed : she has always been involved in improving the situation of women and children all over the world. And now she has the real power to do something...

But the only message she sends to the women and the babies of Gaza is : you are going to suffer in the future, but it is normal. Don't worry : we will help you if your house is destroyed or if members of your family are killed.

A promising start, indeed...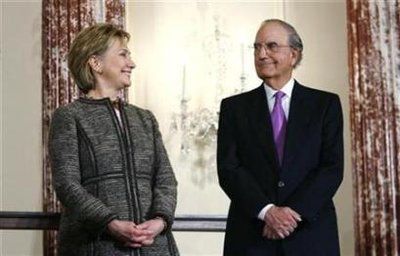 Secretary of State Hillary Clinton and Mideast envoy George Mitchell smile at one another during President Barack Obama's visit to the State Department in Washington January 22, 2009.(Kevin Lamarque/Reuters)