CAMPAIGN COMMITMENTS : Part One
The shelve life of Obama's campaign commitments seems even shorter than time bad mouthers (MOOOI?) take to open up about them.
As listed in the Campaign promises summed up yesterday by French Puma, one of Obama's big talking point on the campaign trail was his commitment to curb the power held by lobbyists in Washington
But only one day after having announced on its first day of Presidency, in a super media show broadcasted and looped endlessly on all channels, his new anti-lobbying regulations which among others are preventing anybody who lobbied in the previous two years a government department to be employed by such, the confirmation of William Lynn, Obama's nominee for Deputy Secretary of Defense, was suddenly not so rubber-stamping anymore.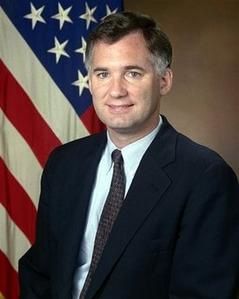 This is an undated photo provided by the U.S. Department of Defense of William J. Lynn then Under Secretary of Defense. President-elect Barack Obama appointed William J. Lynn III, a defense contractor's lobbyist, Thursday Jan. 8, 2009 to become the No. 2 official at the Defense Department, a choice that appeared to break with his self-imposed rules to keep lobbyists at arm's length. Lynn, former Raytheon lobbyist nominated to be deputy defense secretary despite President Barack Obama's ban on hiring lobbyists, will sell his stock in the military contracting firm.






The man, who most certainly will become the Number 2 of Defense, saw his confirmation procedure by the Armed Forces Committee in the Senate suddenly suspended January 22. The chair of the Committee, Senator Carl Levin, wanted some clarifications from the Obama's administration about the newly promoted guidelines. By noon, Levin was speaking of wanting a waiver.
And, Surprise, Surprise, Waiver There Was !!!
Ironically or sadly, or may both, Lynn is the poster child of the lobbyist revolving door effect plaguing American politics and the favorite playground of those tax money suckers is the Department of Defense.
Until very recently, Lynn was Senior Vice President for Government Operations and Strategy for Raytheon, one of the giant of defense and aerospace systems. In reality, this shinny title stands for a lobbyist focused on defense budgets, appropriation bills, missile defense and foreign military financing.

And before seeking the mattress of a solid bank account by 2002 at Raytheon, Lynn was the Pentagon's Chief Financial Officer from 1997 to 2001. Before, he had been the Pentagon's director of program analysis and evaluation from 1993 and 1997. To be noted, before that he also was part of Senator Edward "Whiteout Teddy" Kennedy team.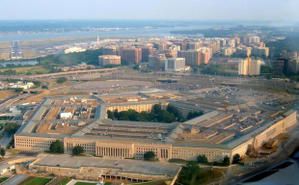 According to the Associated Press, in the first three months of 2008, Lynn and his lobbying team spent $1.15 million in an effort to influence buying decisions on missiles, sensors, radars and other technology and intelligence programs
So to be clear: the guy in charge of signing all the procurement contracts at the Pentagon leaves it, at the same time the Iraq war starts, to work at one of its biggest contractor as their big koruna of lobbying. Seven years later, when Americans are preparing to leave Iraq, Lynn feels again the appeal of public service and salary reduction and agrees to come back to the Pentagon through the DoD. Never mind that during his stay at Raytheon, the company had settled at least 17 instances of overcharging the Pentagon by paying $475 millions in fine.
But again, Friday January 23, at 4:46 pm, when everybody had conveniently already packed for the WE, Obama through one of his subordinate, granted Lynn a waiver for the two day old ethic rules.
For good measure, restrictions of practice, completely unrealistic and unenforceable, will be imposed during the first year of standing (or shall we call them "talking points for Dems" to fence off critics until the next story)
And turns and turns the revolving door. Yeh, that's change for you!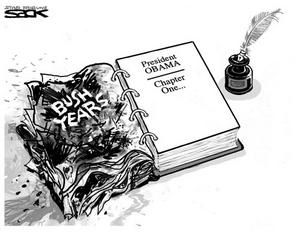 ARTICLE WRITTEN BY : FRENCH NAIL