MADAM SECRETARY : CONGRATULATIONS, HILLARY !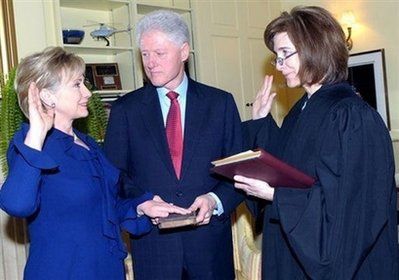 US Department of State photograph shows Hillary Clinton (L) being sworn in as the next US Secretary of State in her Senate office by Associate Judge Kathleen Oberly as her husband, former US president Bill Clinton holds the Bible(AFP/State Dept./Michael Gross)




Congratulations, Hillary !

The Senate overwhelmingly approved her nomination as President Obama's secretary of State on Wednesday

Today, women all over the world are proud : one of their representatives has become one of the most influent persons of the planet, succeeding another woman : Condoleezza Rice.

Hillary deserved this plebiscite, and this unanimous vote shows how popular she is, among Senators, whatever the party they belong to. It proves that everybody trusts her, and is confident she will successfully carry out her mission.


She was confirmed after a one-day delay forced by Republicans who wanted to continue debating her husband's overseas fundraising activities.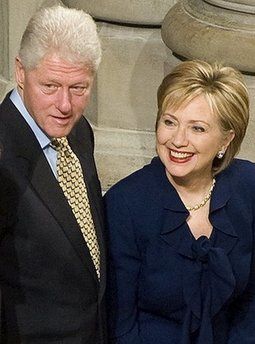 Hillary Rodham Clinton (R) and former President Bill Clinton are pictured at the fifty-sixth Presidential Inaugural Prayer Service at the National Cathedral in Washington, DC. Clinton won confirmation Wednesday as US secretary of state from her fellow senators, who voted 94-2 for the former first lady to become President Barack Obama's top diplomat.(AFP/Jim Watson


The delay had the effect of denying Clinton a confirmation vote on Inauguration Day, when six other Cabinet members were approved. But Sen. John Cornyn (R-Texas), who sought the delay, praised Clinton's abilities Wednesday and voted in favor. She was confirmed 94 to 2.



The only votes against her came from Sen. David Vitter (R-La.), who favored further restrictions on donations to Bill Clinton's foundation, and Sen. Jim DeMint (R-S.C.), who cited concern about her support for abortion rights.

She was sworn in as the nation's 67th secretary of state in her office in the Russell Senate Office Building. Attending the private ceremony was her husband, former President Bill Clinton, and her Senate staff. According to her office, she used the Bible that belonged to her late father. To assume the position, she submitted her resignation as senator in twin letters to Vice President Joe Biden, as president of the Senate, and New York Gov. David Paterson.

After the extraordinary courage, resilience, grace and strength she displayed during her presidential bid, let's guess she will show everybody that she is a great politician, like her husband before her.

Good luck, Hillary !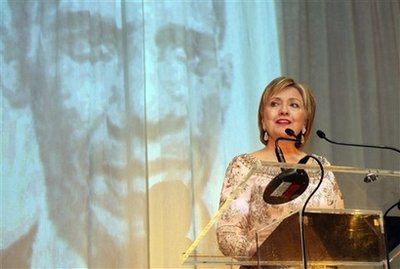 In this photo released by Eli and Edythe Broad, Secretary of State designee Hillary Rodham Clinton speaks at a dinner hosted by philanthropists Eli and Edythe Broad to celebrate the inauguration of President Obama, Tuesday, Jan. 20, 2009, in Washington.(AP Photo/Eli and Edythe Broad, Diane Bondareff)