EVERYTHING WAS O.K, BUT WHERE WAS BILL ?
She sat alone at a small, black-draped desk, with a retinue of advisers behind her, her husband conspicuously absent. Obama spokesman Tommy Vietor said the former president was watching the hearing elsewhere with his wife's mother.
Her daughter, Chelsea, sat behind her in the audience.
"President Clinton wanted to make sure the attention was focused on Sen. Clinton," Vietor said.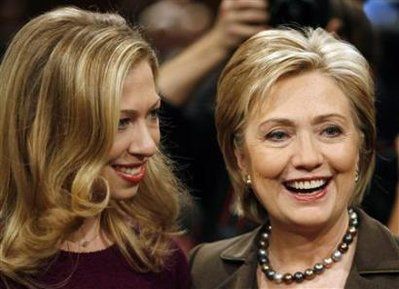 Hillary Clinton stands with her daughter Chelsea as she prepares to testify before the Senate Foreign Relations Committee during her confirmation hearing on Capitol Hill, January 13, 2009.(Kevin Lamarque/Reuters)


Things could not have gone more smoothly for Secretary of State–nominee Hillary Clinton in her Senate confirmation hearings on Tuesday.

Republicans and Democrats alike were lavish in their praise. Senator Richard Lugar, the ranking Republican, extolled "her impressive skills, her compassion, her collegiality." California Democratic Senator Barbara Boxer blurted out, "I'm so excited to see you here today!"
Sen. Charles Schumer, in the kind of rousing tones used to introduce presidential nominees, sat for a while by his junior partner from New York and, among other accolades, introduced her as "the right person at the right time."

Even firebrand South Carolina Republican Senator Jim DeMint said he was "optimistic and hopeful about [Clinton's] role as Secretary of State."


Hillary was masterful on issues as usual. She impressed everybody.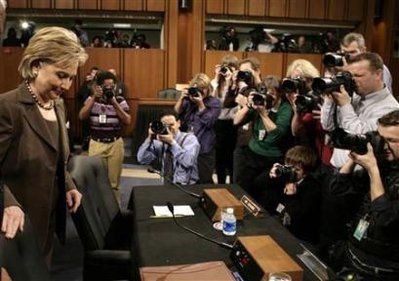 Hillary Clinton takes a seat before her confirmation hearing to become the next Secretary of State at the Senate Foreign Relations Committee on Capitol Hill, January 13, 2009.

(Yuri Gripas/Reuters)



Sen. Bob Corker (R-Tenn.) said, "
We're always glad to see when one of our own does well, has a real job."

On it went, senator after senator, in a somewhat unbearable quasi-tribute : too much, that was too much !

When I think about the way Hillary was treated during the campaign...

I am revolted... revolted by such hypocrisy...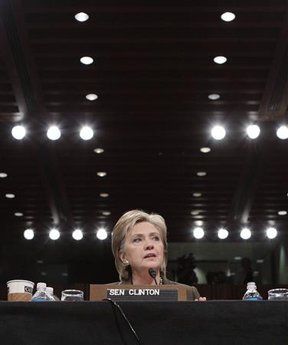 Hillary Clinton testifies before the Senate Foreign Relations Committee on Capitol Hill during her confirmation hearing, January 13, 2009.(Yuri Gripas/Reuters)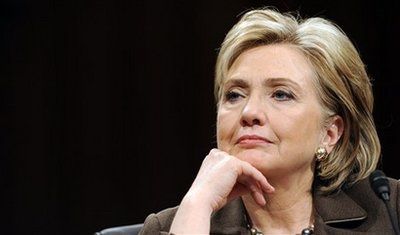 Everything went perfectly. Everything, except for one detail: the matter of President Bill Clinton's charitable endeavors, including the William J. Clinton Foundation and the
Clinton Global Initiative
, and the danger that they might taint Hillary Clinton's role as Secretary of State.

However, this proved to be no obstacle to Hillary's confirmation : the two men who expressed some worries Sens. Richard Lugar (R-Ind.), , and David Vitter (R-La.) contented themselves with pushing for broader disclosure of the contributions. Ever so politely, they put it on the record that perception problems could arise involving Bill Clinton. Lugar also made it plain he will vote for her confirmation regardless.

John Kerry (D-Mass.), who in opening remarks expressed delight at Clinton's appointment, at one point said it was a shame Chelsea was positioned behind her mom and couldn't see her testify. Noting Bill Clinton was once an intern on the committee, Kerry said - apparently innocently - that perhaps he [Kerry] could assign her [Chelsea] as intern for the day so she could better view the proceedings. (? ? ? Did he say that on purpose ? Was it a joke ?Was it a message to the missing one, Bill Clinton ?)

Later, Hillary accidentally started to address Kerry as "president" rather than "chairman."

"I'll take it," he said.

"It was a Freudian slip," she said.

"We're both subject to those," Kerry replied.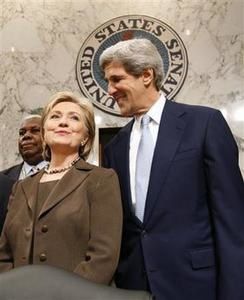 Hillary Clinton stands with Senate Foreign Relations Committee chairman Sen. John Kerry as she arrives for her confirmation hearing on Capitol Hill, January 13, 2009.(Kevin Lamarque/Reuters
After adjournment, Clinton and Chelsea exchanged pleasantries with some Senate staff in what are assuredly her final hours in the body and went out the back way.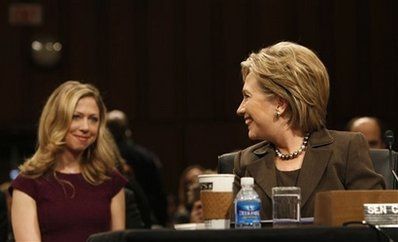 Secretary of State-designate Sen. Hillary Rodham Clinton, D-N.Y., smiles at her daughter Chelsea on Capitol Hill in Washington, Tuesday, Jan. 13, 2009, during the Senate Foreign Relations Committee hearing on her nomination.(AP Photo/Gerald Herbert)


Her confirmation as secretary of state is not in doubt, and she could be on the job as soon as President-elect Barack Obama's first full day in office. The Senate Foreign Relations Committee planned to vote on the selection Thursday.

However, everybody noticed that only Chelsea was present, but Bill was not.
And his absence makes me wonder...
Is he really happy with Hillary's new role and new job ?
Not so sure...