IT IS THE RECESSION, STUPID !
He has not been inaugurated president yet, and he already acknowledges that he told lies during his campaign...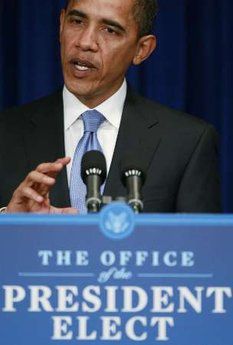 It happened this morning, during the TV show "This Week" on ABC.


Obama has been telling lies for months, not to say years, and today, it is the very first time that he has spoken the truth !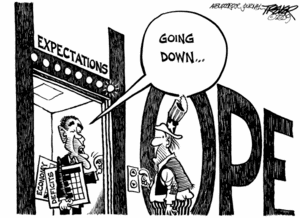 He had better do this, you'll tell me : now that his time has come, he will have to show what he is able to do to the people who voted for him .

Words, words, words : this era is over, now. He has to act.

That's why he is preparing his fellow-citizens to a terrible disapppointment.

That was the message he conveyed today on ABC.

First, he started to say that the major crisis which affects the country will oblige him to scale back on his campaign promises.
And he went as far as to say that it will require personal sacrifice from all Americans.

Isn't this funny ?

The USA was expecting a Messiah. And who is coming ? An individual without any magic powers, like you and me, who says down-to-earth things, and even predicts "blood and tears."



Here are the main statements he made in his interview, concerning the promises he made when he was chanting "We are the change we've been looking for... We are the ones we were expecting."

- His preliminary remark to prepare his audience to the bad piece of news he was going to announce throughout the show was :


"I want to be realistic here [at last, shall we dare say ! Better now than never, but for Americans people, it is a bit too late. There will be no turning back : they wanted him... they have him !], not everything that we talked about during the campaign are we going to be able to do on the pace we had hoped," Everybody's going to have to give."


- He constantly insisted on the bad indicators of the US economy, probably to justify himself :

"all of the indicators show that we are in the worst recession since the Great Depression,"


- Guantanamo
Among the campaign promises that may be delayed is his vow to quickly close the prison camp at the U.S. Navy base at Guantanamo Bay, Cuba.
"It is more difficult than I think a lot of people realize", he declared.


And yet, the crisis cannot explain his flip-flopping ! Had he not realized this himself, when he made this promise during the campaign ? Is he discovering the problem only now ?

- Foreign policy
Once again, he refused to say anything about the situation in Gaza.
Obviously, he does not feel any compassion towards the hundreds of children who have died these last few days. The words he uttered did not make any sense, were empty, as if for him this conflict did not mean anything : it "makes me much more determined to try to break a deadlock that has gone on for decades."

I'm sure the population who lives in the Middle-East is going to feel reassured after hearing such words, tonight !
That's a promising future, isn't it ?

Really, tonight, I wonder how the people who voted for him feel, after watching him on TV...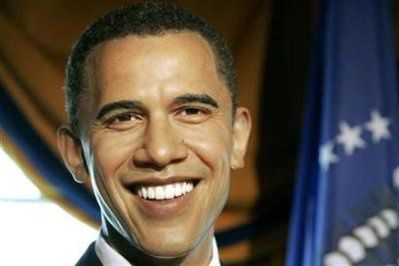 No, this is not the real Obama, but a lifelike wax figure of himon display at Madame Tussauds. Looking better than in reality, isn't he ?