TIME TO SPEAK OUT, MISTER OBAMA !
Dear Mister Obama,

Over the last few weeks, you have shown a great haste in forming your Cabinet and you have publicly expressed yourself about almost every burning issue : the economic crisis, the bail-out plan, the problems facing automakers, the necessity to create green jobs, more troops in Afghanistan, and the terrorist attacks in Mumbai.

And you have been doing this although you have not been inaugurated president.

You have done this because you probably think it is important for Americans and the world to know where you stand on the issues, now that you are going to govern the US and the planet for the four coming years.

So why ? Why are you so silent about what is currently going on in Gaza ?

Don't you feel shocked, personally, and as the new world leader, when you see photos like the following one ?







Aren't you a little moved when you see these children wounded some of them seriously, who may not be correctly attended to in the Palestinian hospitals because they are now functioning without electricity, which could provoke a humanitarian disaster in a few hours if Israël continues its strikes and ground battle ?





So do you intend to let President Nicolas Sarkozy continue to take some initiatives although he perfectly knows he has no power to do anything, as France does not weign much on the international scene.




Palestinian President Mahmoud Abbas and France's President Nicolas Sarkozy (L) hold a joint news conference in the West Bank city of Ramallah January 5, 2009. Sarkozy, on a peacemaking mission to the Middle East, called on Monday for a ceasefire between Israel and Hamas fighters in the Gaza Strip "as soon as possible".REUTERS/Fadi Arouri (WEST BANK)








Israel's Prime Minister Ehud Olmert (L) meets France's President Nicolas Sarkozy in Jerusalem January 5, 2009, in this picture released by the Israeli


Everybody agrees : only the USA has the necessary influence to convince Israël to adopt a ceasefire and stop killing innocent children.



Israel's massive assault on Gaza is the worst sort of déjà vu all over again. As news commentators wearily point out that the Israeli-Palestinian conflict is a never-ending story, there are shifts in that story. The most important one: George Bush's decision to studiously ignore the whole problem. For eight years the U.S. has abandoned its responsibility to broker peace. The result has been an ongoing catastrophe. No one needs reminding of that.




Now evidence is mounting that Obama is already losing ground among key Arab and Muslim audiences that cannot understand why, given his promise of change, he has not spoken out. Arab commentators and editorialists say there is growing disappointment at Obama's detachment - and that his failure to distance himself from George Bush's strongly pro-Israeli stance is encouraging the belief that he either shares Bush's bias or simply does not care.


The Al-Jazeera satellite television station recently broadcast footage of Obama on holiday in Hawaii, wearing shorts and playing golf, juxtaposed with scenes of bloodshed and mayhem in Gaza. Its report criticising "the deafening silence from the Obama team" suggested Obama is losing a battle of perceptions among Muslims that he may not realise has even begun.

When you are a superpower, your power must be used for more than national self-interest

So please , Mister Obama, do not be so selfish : I know you have been more interested today in sending your own daughters to their new private Washington school, which will cost you more than $45,000 a year for tuition, but think about all those poor children who cannot even go to a public free school, because if they go out, they run the risk of being killed because of this stupid war...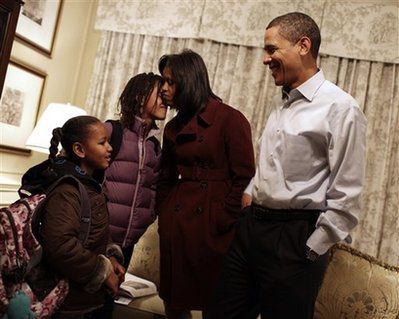 This morning at the Hay Adams Hotel ($6,000 a night) : Obama's daughters say goodbye to their parents before going to their new school which is... private !



Yes, please, Mister Obama, at least just once in your life... Do something for others.

And, remember something important :

foreign wars don't wait for Washington inaugurations !


N.B : I've just done something quite funny, and I advise you to do the same.
Go to Obama's site Change.gov, and type "Gaza"...
Result of your search : "We found zero result for Gaza"

All is said !