A CLOWN IN THE MIDDLE OF A CRISIS
An Israeli air assault on Palestinian targets in Gaza has taken an estimated 300 lives over the course of the past several days, and the death toll is mounting rapidly. Dozens of children have been killed, confirming that there is nothing "surgical" about these strikes.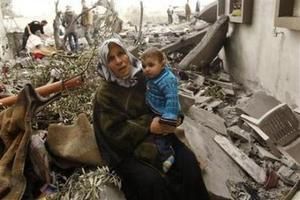 A Palestinian woman sits on the rubble of her destroyed house after an Israeli air strike in Rafah in the southern Gaza Strip, December 30, 2008.(Ibraheem Abu Mustafa/Reuters)



Most U.S. media coverage portrays this tragedy as a simple struggle between Israelis on the one side and Gaza's Hamas militants on the other.


This is the line that is being advanced aggressively by the Bush administration and that has effectively been accepted by President-elect Barack Obama's transition team, which is maintaining its "Bush speaks for the U.S. until the 20th of January" line even as the crisis mounts...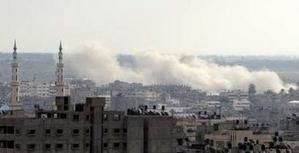 Smoke rises after an Israel air strike in Gaza December 30, 2008. Israel hit the Gaza Strip with more air strikes on Tuesday and warned its military action could last weeks, while its Islamist enemy Hamas vowed to keep up rocket attacks on Israeli cities.REUTERS/Suhaib Salem (GAZA)


Obama has been saying the same thing since November 4th : "There is only one president at a time".



I'm afraid Obama and his team in fact are using this transition period as a pretext : in reality, they are at a loss.
For they really do not know what to do, or what to say...
They have no plan, no idea, no project for the Middle-East.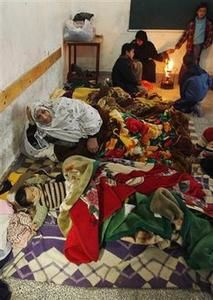 A Palestinian boy, who fled with his family from their house, sleeps at a United Nations aid center in Rafah in the southern Gaza Strip December 30, 2008.(Ibraheem Abu Mustafa/Reuters)



If we look at Obama's past statements or deeds on the subject, it is impossible to say where he really stands.
Once accused of being pro-Hamas, he is now suspected of being pro-Israël.
But according to me, he is neither one or the other.
He does not know... For he has never seriously thought about the question.
Remember what we have been repeating for months ,
This man is a fraud, an empty suit... He has never worked... What has interested him so far has been his accession to power.
Nothing else.
And as the new Commander-in-Chief, he will be unable to answer the phone at 3 in the morning.
If Obama had the courage to be a true leader, he would ask his team to work hard with the Bush administration on the subject.
He should say clearly that Israeli raids should be stopped immediately : he should understand that escalating the conflict would prove counter productive, that there is no military solution.
If he were a "true friend of Israel, as some have called him, he would advise the Israeli government to abandon their plan to invade and occupy all or part of Gaza.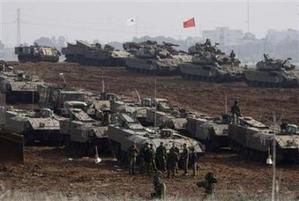 Israeli soldiers stand near armoured military vehicles just outside the northern Gaza Strip December 30, 2008.(Baz Ratner/Reuters)

Even some Israelis themselves have been protesting against this surge of violence, and these new attacks :
A substantial crowd of Israelis – estimated at 2,000 by organizers -- rallied in Tel Aviv Saturday to protest their country's attacks on Gaza and to call for an immediate ceasefire. Chanting "No to War – Yes to Peace," the protesters carried signs urging "Negotiation Instead of Slaughter" and calling on Israeli leaders to "Lift the Siege from Gaza".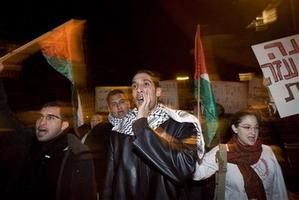 Demonstration in Tel Aviv on Saturday December 27th


Many people in Israel and all over the world are fed up with all this violence, they would like governments to behave more responsibly.
If Obama were really the Saviour of the world that people think he is, he would have the guts to say it clearly.
Repeating that he is not president yet is simply pathetic, and so is his behaviour in Hawaii : as children are dying in Gaza, he spends his time playing golf and acting like a clown, to make the crowd who watches him laugh.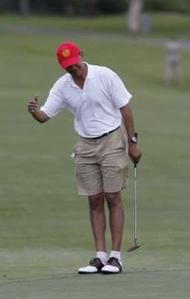 A clown...

But, honestly, who feels like laughing at the moment ?
This is simply unworthy of a President of the United States in times of major international crisis...