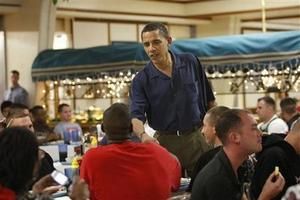 Obama, who is currently spending his Christmas holiday at a residence for millionnaires, thought it could be a good idea for him on Christmas Day to visit the Marine Corps base in Hawaii Kaneche Bay where servicemen and -women were eating Christmas dinner in Kailua Thursday evening.
The president-elect spent about an hour with the troops.



But, according to the political blog of ABC and their on-the-scene reporter, this surprise visit to the troops was met with no enthusiasm on the part of the military :
"Just wanted to say hi, hey guys," Obama said as he walked into the Anderson dining hall which was decked out in Christmas decorations.
As Obama entered the room, it was absent of the regular fanfare of cheering and clapping. The diners were polite, staying seated at their respective tables and waited for the president-elect to come to them to stand up.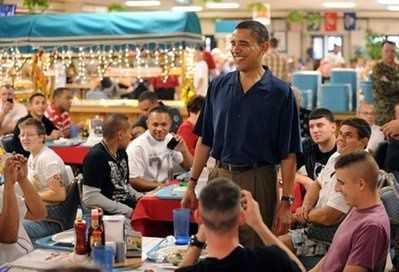 Obama, dressed casually in a blue polo shirt and dark khaki trousers, worked his way around the room -- table by table -- and took pictures with the service members. He slapped them on the back at times, shook hands, and signed some autographs.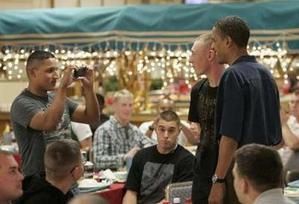 "Hey guys, Merry Christmas," The president-elect said as he walked from table to table.




No speech !
Only simple words : hi ! No wonder he met no success... If that was the only thing he had to tell theme !
But I am not surprised by his lack of inspiration : as he is on holiday, his speechwriter does not accompany him, . That is the reason why he did not know what to tell the marines.
For what could he have told them about ?
His successive flip-flops on the withdrawal of troops from Iraq ?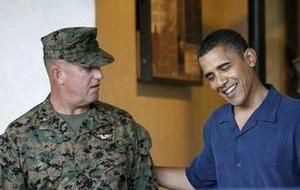 They probably remember he now says he will bring the troops home but not in the time frame he promised.
Obama was not greeted enthusiastically because a lot of soldiers probably bear him a grudge for saying :
""We've got to get the job done [in Afghanistan] and that requires us to have enough troops so that we're not just air-raiding villages and killing civilians, which is causing enormous pressure over there."
No wonder these soldiers were less than enthused with Obama when he called these same soldiers "baby killers".



I wouldn't trust Mr. O either if I were a Marine.
The man who also said the military "wasted" their lives fighting the war in Iraq.
The man who did not even bother to pay them a visit when he went to Germany last summer.
The man, who, in May 2007, voted against an Iraq Emergency Spending bill that would provide:
$1.6 billion for body armor
$2.4 billion to help combat improvised explosive devices (IEDs)
$3 billion for mine resistant-ambush protected (MRAP) vehicles.

Yes, indeed, These soldiers must think he is not very reliable as Commander-in –Chief...
In Hawaii, he is simply ridiculous, going to his fitness center, showing off his body to photographers--he doesn't seem like a president.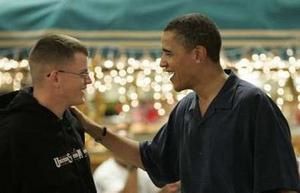 And they all know exactly what he thinks of them.
And, as the saying goes "you reap what you sow":
The reaction merely reflected the indifference Obama showed the troops.
Mister O. will learn he has to earn respect from the troops.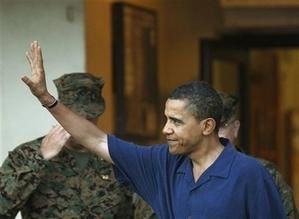 President-elect Barack Obama waves after visiting soldiers at Marine Corp Base Hawaii on Christmas Day in Kailua, Hawaii Thursday, Dec. 25, 2008.(AP Photo/Gerald Herbert)