Yesterday, we wrote an article about the revelation made recently by an Internet site : the Obamas' house in Chicago is apparently owned by Tony Rezko's lawyer, William Miceli.

Now we have to wonder why, and this has happened.

In fact, we do not know the answer to this question for the moment, but what we can do at least is tell the story of the strange land deal between Rezko, Auchi and Obama, which led to William Miceli's owning Obama's mansion.
In June 2005, Obama was interested in the purchase of a house in Chicago, in the Hyde Park district. But there was a big problem : the price was too high for Obama, he could not afford the house of his dreams.
So, what did he decide to do ?
he went to Rezko for help. Rezko's plan was to buy the adjacent property on the same day Obama bought the house.
The problem is that Rezko did not have the money either !
So who gave him the money ?
An investigation carried ou by the London Times, has shown that Nadhmi Auchi, a British-Iraqi billionaire, lent millions of dollars to Tony Rezko, just weeks before the land deal was concluded between Obama and Rezko.
The money transfer raises the question of whether funds from Nadhmi Auchi, one of Britain's wealthiest men, helped Mr Obama buy his Georgian mansion in Chicago. It would mean the president elect's house has been bought by a convicted felon, as Mister Auchi was convicted in the Elf Aquitaine trial in France. The London Times reported that Auchi gave a $3.5 million loan to Mr. Rezko in May 2005 through a Panamanian company linked to the Iraqi expatriate called Fintrade Services SA.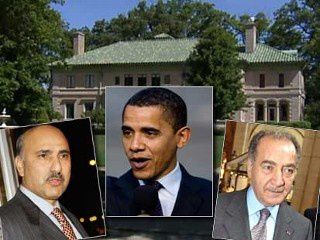 The question is to know how Barack Obama the politician rewarded the two men who lent him money...
Mister Obama, weren't you the one who spoke about "Ethics in politics" ?
Now, let us try to explain what the land deal between Rezko and Obama was. It is quite strange as we now know that the real owner of Obama's house is Rezko's lawyer, William Miceli...
Several weeks after Auchi's loan to Rezko, Mr. Obama purchased a house on Chicago's South Side and Mr. Rezko's wife bought an expensive plot of land next to the house from the same seller on the same day, June 15. Mr Obama says he never used Mrs Rezko's still-empty lot, which could only be accessed through his property. But he admits he paid his gardener to mow the lawn.



Mrs Rezko, whose husband was widely known to be under investigation at the time, went on to sell a 10-foot strip of her property to Mr Obama seven months later so he could enjoy a bigger garden.
The Times of London created a handy graphic to help visualize the properties and the transactions (extracted from this pdf file):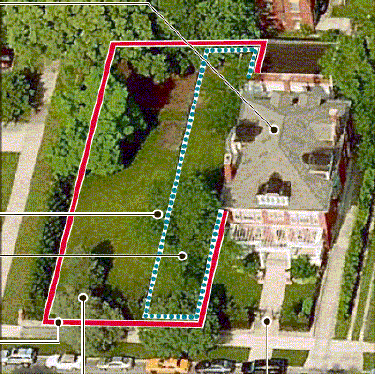 Mrs Rezko's purchase and sale of the land to Mr Obama raises many unanswered questions.
It is unclear how Mrs Rezko could have afforded the downpayment of $125,000 and a $500,000 mortgage for the original $625,000 purchase of the garden plot at 5050 South Greenwood Ave.
In a sworn statement a year later, Mrs Rezko said she got by on a salary of $37,000 and had $35,000 assets. Mr Rezko told a court he had "no income, negative cash flow, no liquid assets, no unencumbered assets [and] is significantly in arrears on many of his obligations."




Mrs Rezko, whose husband goes on trial on unrelated corruption charges in Chicago on March 3, refused to answer questions about the case when she spoke by telephone to The Times.
Asked if she used money from her husband to buy the land next to Mr Obama's house, she said: "I can't answer these questions, I'm sorry."
Asked how long she and her husband had known Mr Auchi, she replied: "I will not be able to answer this question."
The house-and-garden deal raised questions about whether Mr Rezko made it possible for the Obamas to purchase a mansion they could otherwise not afford.




Mrs Rezko paid the asking price for the garden but the Obamas bought the house for $1.65 million, - $300,000 less than the asking price. The sellers deny they offered the Obamas a discount on the house because the garden had fetched full price from Mrs Rezko.
Mr Rezko has since been indicted for allegedly scheming to pressure companies seeking business with the state of Illinois for kickbacks and contributions to the governor Rod Blagojevich's campaign. He goes on trial on March 3.
Mr Obama insists he never used his office to do favours for Mr Rezko but admits that, as an Illinois state senator, he once wrote letters to housing officials urging them to provide money in support of a proposed apartment building for elderly people which Mr Rezko wanted to build.





Mr. Obama has called the land purchase a mistake.
That was in March during the primaries, a while before the beginning or Rezko's trial.
Obama has publicly sought to atone for his closeness to Mr Rezko, paying $150,000 to charity to distance himself from a man accused of political corruption.




And the MSM has never questioned the exact kind of relationship existing between Rezko, Obama and between Auchi, Rezko and Obama.


Even during Rezko's trial in April, the press has been mute : only the Chicago Tribune and the Chicago Sun Times covered the event. For the rest of the MSM, it was as if the trial had never taken place...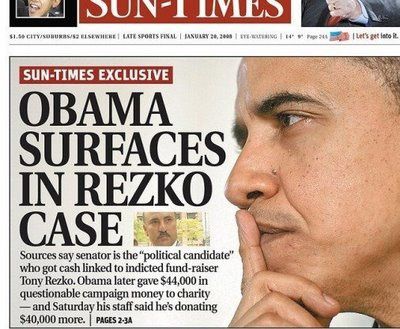 Nobody was interested in finding the role played by Auchi in the land deal.
And yet, it is quite interesting...
Mr Rezko has told a court that Mr Auchi is a "close friend." Mr Auchi's lawyer told The Times: "It is untrue that my client and Mr Rezko are 'close friends'. Mr Auchi first met Mr Rezko after the 2003 Iraq war and they have a business relationship."
Bill Burton, a spokesman for Mr Obama, told The Times: "The bottom line is Obama does not recall ever meeting him [Mr Auchi]."
Both Mr Auchi and Mr Obama say they have no memory of meeting each other.

But, according to a witness at the Rezko trial, Stuart Levine, Obama and his wife were present at a party honouring Nadhmi Auchi held at Rezko's house.


That was Just weeks after Obama won the Democratic U.S. Senate primary in 2004...

When asked about this in an interview by the Chicago Tribune, Obama said he did not remember the event, on April 3, 2004, because it was in the midst of his campaign for the U.S. Senate seat from Illinois.
"I just don't have a recollection of the event," Obama said to the newspapery. "As I said, I was in the middle of running a U.S. Senate race. So, you know, I was speaking all the time, probably six, seven, eight times a day."


Obama may not recall Rezko's party for Auchi, but he was not in the "middle" of a U.S. Senate race or speaking all the time. The Saturday party was held less than three weeks after Obama had won the March 16 Democratic primary nomination and, as is tradition, the candidates slow their immediate post-primary campaign schedules considerably before reheating the fall general election contest in late summer.


Indeed, an archived copy of an Obama "upcoming events" schedule on his old Senate campaign web site shows that on March 31, 2004, and Thursday, April 1, 2004, just a few days before Rezko's April 3 party for Auchi, Obama wasn't engaged in full day campaigning. Instead, he was on the floor of the Illinois Senate, where he advanced a measure to override a federal proposal to restrict overtime pay.
On Friday, April 2, the day before the party, Obama taped a Chicago news radio interview program. And on Saturday, along with the Rezko party, Obama was among the glitterati who attended a Ritz-Carlton wedding reception.



On Sunday, April 4, Obama was on the South Side of Chicago, listening to a Palm Sunday homily at St. Sabina Catholic Church delivered by South African Archbishop Desmond Tutu. Also in attendance in the overflow crowd were Rev. Jesse Jackson and Nation of Islam leader Louis Farrakhan, as the day also marked the anniversary of Rev. Martin Luther King Jr.'s assassination.
Let's be clear then: The Obamas attended the Rezko party, and it's not like Auchi was just another guest. He was the guest of honor. The party was for him, as part of Rezko's effort to get him to invest in a real estate venture in the South Loop. Surely Obama would know the purpose of a party and why the guest of honor was the guest of honor (even as he somehow didn't know that Rezko had slum properties in his state senate district at the same time).

To put it in a nutshell :
-Antoin "Tony" Rezko, the businessman and political player helped raise money for Senator Barack Obama's early political campaigns.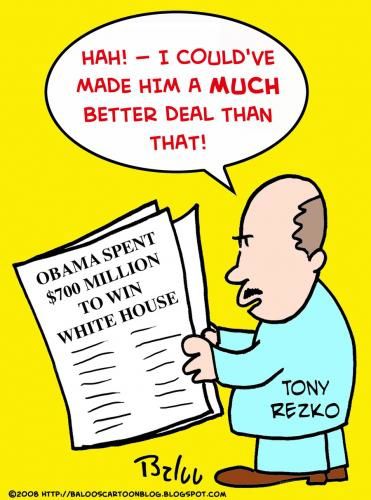 He helped him buy his Chicago house.
- Rezko's money came from Auchi.
- Auchi came to Illinois soon after Obama's victory in the Democratic primary for the Senate
-During the visit, Auchi met with the state's Democratic Governor, Rod Blagojevich, and other political figures, including Barack Obama.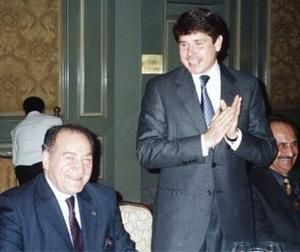 Auchi and Blagojevich




Conclusion : whatever Obama may say : it is not true when he says he does not know Auchi.
He lied about the purchase of his house. He bought it thanks to the money of two convicted felons.
Today, I would be very interested to hear him explain to us why Wiliam Miceli owns his house.
Yes, indeed, a new kind of politician...
Change you can believe in...
Our previous posts on the Obama / Rezko relationship :
http://europumas.over-blog.com/article-25735407.html
http://hillary.meilleur.choix.qu-obama.over-blog.com/article-22143625.html