One week ago, Obama gave an interview to the Los Angeles Times.
Here is the link :
LATimes interview

You may read it from beginning to the end several times, you will not know more about the new president's positions on the issues :
Whatever the journalists asked him, he deferred them to his team!

Where's the change ?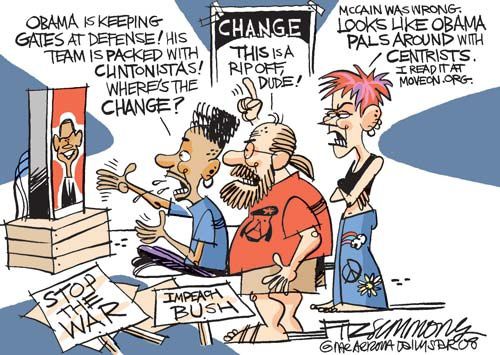 We all know that President Bush was a puppet : Obama will be the same kind of leader, in other words, no leader at all. To quote Bill Clinton (see presentation of this blog at the top of this page) : "He can be the Chief Executor of good intentions as President. (...) he is a great executor".

I must have misunderstood the role of a leader : I have always thought it is to set the agenda and get his team to do HIS orders.

For Obama, that is the contrary : his team will run, and tell him what to do...

Here are some excerpts from Obama's interview :


Though world events and economic winds have made his agenda all the more challenging, Obama kept close counsel on how he plans to move forward.

He would not commit to specific plans on matters as varied as free trade, unionization and illegal immigration. Instead, he said, his nominees and advisors are studying the issues and will report back with recommendations.

Asked if he would support the extension of the fence between the U.S.-Mexico border, Obama deferred to his nominee for the Homeland Security Department, Janet Napolitano.

In similar fashion, he sidestepped questions about whether he would move quickly on promises to rework the North American Free Trade Agreement or push the so-called card-check law that would make it easier for unions to organize.

"My economic team is going to put together a package on trade and on worker issues," he said. "That will be presented to me. I don't want to anticipate right now what sequences will be on these issues."


In brief, Obama does not know anything on any issue ... he has no plan... no intention...

Let me tell you I am not surprised :
what were we to expect from a man who is so inexperienced and who has never run anything in his life ?