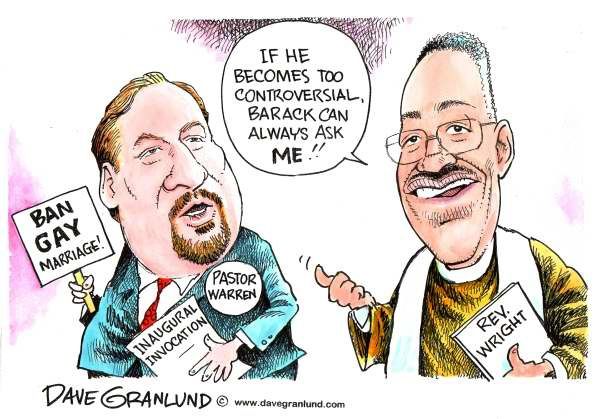 I've just received an e-mail from the feminist organization NOW.
Here are some extracts from this mail :


NOW to President-elect Obama: We Hope You Will Change Your Mind
Don't Grant Rick Warren a Prominent Platform at Historic Inauguration
December 18, 2008
Millions of people are finalizing their plans to travel to Washington, D.C. on January 20, 2009, to be part of your historic inauguration as the 44th president of the United States. We are all hoping to relive the joy of election night when we stood side by side believing that, together, we can change our country and our world for the better.
Today, we are disheartened that one of the voices that may be privileged to be part of this historic moment is that of Rick Warren. His delivering the invocation would be an insult to all of us, women and men, who support women's right to self-determination. His presence is offensive to all of us, gay and straight, who support equal rights for lesbian, gay, bisexual and transgendered people.
We understand your desire to engage people from opposing sides of many issues. But dialogue requires treating your opponents with respect. Rick Warren has compared abortion to the Holocaust and stated that he would not vote for a "Holocaust denier." He implies that those of us who support abortion rights are equivalent to Nazis.
Rick Warren worked to take away the rights of LGBT people in California by supporting Proposition 8, calling it a "moral issue that God has spoken clearly about" and stating the "homosexual marriage is one of the five issues that are not negotiable." He calls LGBT people "unnatural."
Words do matter, President-elect Obama. Words lifted you to the White House and all of us to a place where we felt included in your vision. By choosing Rick Warren to deliver the invocation at your inauguration you have deeply offended progressive people who worked and voted for you in record numbers. This is not the tone we hoped you would set on this historic day - and giving a platform to a messenger of intolerance does not send a message of acceptance and change.
There are limitless opportunities for your administration to work with people who do not agree on every issue, but who nonetheless agree that we must end poverty, address climate change, and achieve human rights for all. We are deeply disappointed that you have made a different choice and hope that you will reconsider Rick Warren's inclusion in this important and historic celebration.
President-elect Obama, you can still select a minister who will speak to our collective vision for hope, change and the promise that we will all be part of this great country, and we urge you to do just that.

Ha ! Ha ! Ha !
This NOW protest makes me laugh, especially the quote : "Words do matter... Words lifted you to the White House"...

But is NOW realizing ONLY now what sort of empty suit Obama was, has always been, is, and will always be ?
"Words... Words... Words" : a quote from Hamlet, that we have often used here to speak about Obama.
We have constantly insisted that he was a dangerous person, who has constantly flip-flopped on every issue, or hidden his true feelings simply to get elected.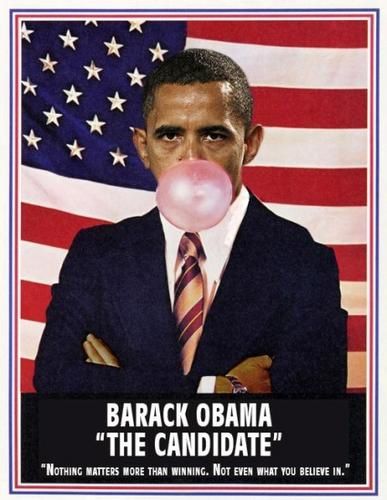 Of course, he has never said he despises women, and homosexuals...
But now, he is starting to reveal who he is really, and what he really thinks...
Now, it is safer for him : he is the new president...


But what strikes me is how naive, how gullible those people have been !
What did feminist organizations believe, when they shamelessly supported the Messiah after his sexist treatment of his rival, Hillary Clinton ?
What did progressive associations, pro-choice groups like NARAL believe, when they chose to support Mister O., rather than Hillary, thinking that he would defend women's rights, gays' rights, better than a woman who has always been a true, sincere, advocate of minorities' rights and who has always, unequivocally asserted she was pro-choice ?

Are they becoming aware, now that it is too late, that they may have made the wrong choice ?

Yes, indeed, for Warren, abortion is the same as the Holocaust...
And yet, Obama has asked him to deliver his invocation at his inauguration ceremony...
Yes, indeed, for Warren, homosexuality is a disease...
And yet, he is Obama's pick...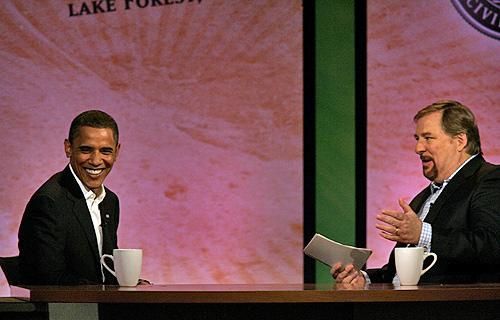 Barack Obama enjoys a light moment during a question from Rick Warren during the Saddleback Civil Forum at the Saddleback Church in Lake Forest on Aug. 16. (Genaro Molina / Los Angeles Times / December 17, 2008)
NO DOUBT : WARREN MAKES OBAMA LAUGH ! Maybe he was comparing abortion to Holocaust...Funny, isn't it ?



Do you understand what it means ?

Do you understand that Obama is here sending a message because everything is symbolical during an inauguration ceremony.

And if his final decision was to pick Rick Warren, the message is clear :
"During this inauguration, I have chosen to offend, to insult homosexuals and women ... My first day as president will be to remind these people not to expect anything from me, for I hold them in contempt... Let them listen to this great, respectable man, who knows what abortion and homosexuality represent..."

If I were a member of one of those organizations these days, surely, I would not feel very proud...
I would be quite ashamed... Quite ashamed of having believed in a man who had no record on gay or woman rights, but who was able to speak quite well, well enough to deceive voters...