HILLARY TELLS HER SUPPORTERS TO SHUT UP !
Terrible. It is terrible for her.
She has been obliged to do everything. Anything.
Just to continue to be appreciated by her party...

This time, Hillary has decided to tell her supporters to stop attacking Caroline Kennedy.
She has come to defend the very woman who chose not to support her during the primary campaign. The woman who chose Obama from the start.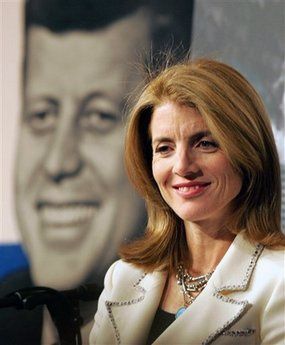 It has just been reported that Hillary Clinton has a message for anyone trying to derail Caroline Kennedy's Senate bid: Back off.



The New York senator has told supporters to stop trashing JFK's daughter, the woman who very well could take her place in the Senate once Hillary becomes Barack Obama's secretary of state.


From the New York Daily News:
A senior New York Democrat said Clinton — and the rest of New York's delegation — is aware Obama is deeply grateful to the Kennedys for their support in the White House.
"She's got to be part of the team now. She needs to take her cue from the president-elect," the high-ranking source said. "She knows what the reality is about that [Kennedy] name."
Another source said Clinton is so focused on her next job she won't even engage friends like teachers union President Randi Weingarten who are Kennedy's rivals for the seat.
Clinton "is not for or against anyone in this process," the Democrat said. A source close to Kennedy agreed "the criticism of her is not coming from Hillary."
But beware !

It does not mean Hillary has forgiven the Kennedys.
Don't forget that Ted Kennedy himself also let her down at a crucial moment during the primaries to back Obama.
Hillary Clinton has certainly not forgotten the Kennedys' attitude. And yet, once again, she plays the political game.
Because Obama must have asked her to do so.

And now she is HIS Secretary of State.
So she must comply when he orders her to do something.

That is not the first time.

And, alas, it won't be the last one either...