SMALL ARRANGEMENTS BETWEEN FRIENDS...
Rahm Emanuel is probably going to perform an unprecedented feat :
he is likely to become the first White House Chief of Staff to be obliged to resign before entering the presidential mansion !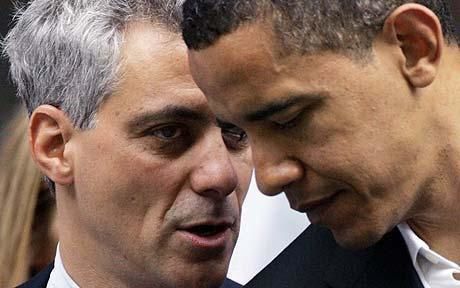 "Sources close to the investigation said Rahm Emanuel, the new chief of staff, had conversations about the issue with Rod Blagojevich and John Harris, the governor's chief aide who is also facing corruption charges.
It is claimed that at one point he even gave them a list of acceptable candidates to take over the vacant seat.
Suspicion has grown that Mr Emanuel is the unnamed "Washington based adviser" mentioned in the 76-page prosecutors' affidavit that Mr Blagojevich ordered his chief of staff to contact.
Mr Obama, who takes office on Jan 20, has vehemently denied any of his staff were involved in deal-making and has promised to reveal any contact between members of his team and the governor's office.
The sources close to the investigation did not say Mr Emanuel had discussed any deals, but even being on receiving end of corrupt demands could be damaging to him and Mr Obama. The sources told Fox News that it was likely the discussions were recorded.



The President-Elect pledged a new brand of politics during his campaign and could be embroiled in the scandal if it turns out any illegal approaches were not swiftly reported to the police.
Any suggestion of wrongdoing could fuel drama and headlines for months as the new administration tries to settle in amid an economic crisis and two wars.


Meanwhile pressure mounted on the governor to resign, after Lisa Madigan, the Illinois attorney general announced she would ask the state's supreme court to declare him unfit to govern in "these extraordinary circumstances".


A leading Democrat yesterday criticised Mr Obama for not being more open about the situation. The president-elect's reaction has stretched out, beginning with a brief denouncement and denial, followed by a call for Mr Blagojevich to resign and then a pledge to reveal all.
Ed Rendell, the Governor of Pennsylvania, said: "The rule of thumb is whatever you did, say it and get it over with and make it a one-day story as opposed to a three-day story.
"Did Rahm Emanuel, who took Rod Blagojevich's seat in Congress, have contact with Rod Blagojevich? Of course he did," Mr Rendell said. "They may have thought he was the craziest S.O.B. in the world. But you still have to have contact with him."
Confronted by a reporter in Chicago, Mr Emanuel gave a testy response, saying: "You are wasting your time. I am not going to say a word about it to you.""
(SOURCE : The Daily Telegraph)




For the moment, the MSM is doing its best to target Emanuel, and to prove that Obama is "clean", but how long is this mascarade going to last ?


Strangely, Emanuel was not at today's Cabinet announcement news conference, where he's been a fixture until now.


So now, I am addressing journalists :
have you forgotten that Rahm Emanuel was the first member of his team that Obama appointed, the day following his presidential victory ?
Doesn't it show how close the two men are ?

So, how long do you intend to claim that Obama knew nothing about the conversations his top aide was having with one of his friends, Rod Blagojevich, about a topic which concerned him particularly : the question of his Senate seat ?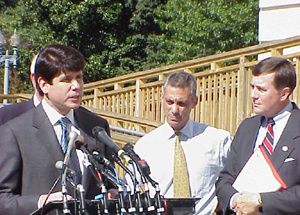 I know that Obama and his friends from the press probably wish they could continue to fool us for another couple of months, but I think now the limit to what is tolerable has been reached...