REZKO IS SINGING... OBAMA IS TREMBLING...
Tony Rezko, the corrupted Chicago businessman and one of Obama's longtime friends, is now in prison.
And, it seems more and more obvious that he has started to sing in his cell, in order to get a reduced sentence...

What he will say must be a source of worry for the new president of the USA...as Rezko's connections might well lead investigators straight to the White House...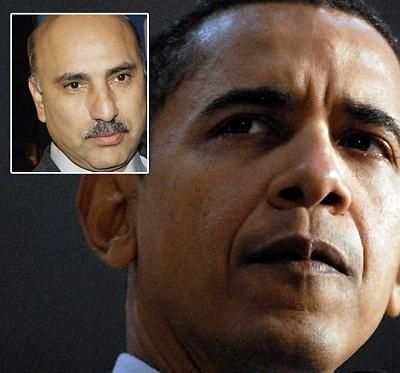 Here is what the Washington Post revealed yesterday :

A footnote to the 76-page criminal complaint and affidavit charging Illinois Gov. Rod Blagojevich (D) with soliciting bribes confirms what has long been rumored — that a former longtime friend and fundraiser for President-elect Barack Obama is talking to federal prosecutors in hopes of a reduced sentence.

Antoin "Tony" Rezko's offer to provide authorities with evidence of others' wrongdoing is "not complete," and prosecutors are working to corroborate the claims he has made so far, the footnote said.

Rezko, a 53-year-old developer, was convicted in June of 16 criminal counts, including fraud, money laundering and abetting bribery. He is in custody awaiting sentencing.

Prosecutors depicted Rezko at trial as a fixer for Blagojevich and the man to see to secure a high-level appointment with the governor's administration. Rezko had been a longtime fundraiser for Blagojevich and other Illinois politicians, including Obama.


What is unusual, according to the Washington Post, is Patrick Fitzgerald's statement.
He is the US General Attorney, and he has done his best to make it clear the affidavit has nothing to do with the new president elect.
"I should make clear, the complaint makes no allegations about the president-elect whatsoever," Fitzgerald said. "We make no allegations that he's aware of anything, and that's as simply as I can put it. . . .


According to Jan Witold Baran, a Washington lawyer who represents politicians on ethical complaints and campaign finance matter
"That carries a great deal of weight," said . "It is really unusual for a U.S. attorney to say someone is not implicated.


The situation is becoming more and more complex for Mister O. :
a lot of his advisers are referenced in the criminal complaint and will be interviewed by federal prosecutors, legal analysts said.

Obama has not been inaugurated yet, that a lot of scandals are erupting around him, in which he IS implicating, although the MSM says the contrary. And there is the question of his ineligibility which is likely to be present during all his term.

Now concerning Rezko, no doubt he will have plenty of interesting information on the corrupted world of Illinois politics in which Obama was "bred", and where he learnt everything he knows.

Never forget that Obama and Rezko worked together for more than ten years in Illinois politics.And as everyone with whom Rezko worked could be implicated, Obama might well be too.





So, if I were Obama, I would be hoping that Rezko is a true, faithful friend...