BLAGOGATE : OBAMA'S SENATE SEAT FOR SALE ON E-BAY
Someone has put President-elect Barack Obama's Senate seat up for sale on eBay.
"President-elect Barack Obama's U.S. Senate seat is now for sale as of 12/9/08!

From the mouth of Blago himself, "It's a (bleeping) valuable thing. You just don't give it away for nothing. Happy bidding!"

It's a joke that plays on this morning's news that federal authorities arrested Democratic Gov. Rod Blagojevich, because Blagojevich was attempting "to sell the U.S. Senate seat" that President-elect Barack Obama recently vacated.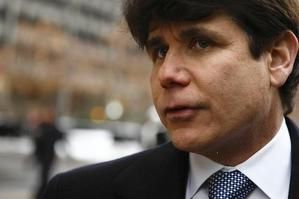 The governor has the sole power to pick Obama's replacement under the state constitution.

"The conduct would make Lincoln roll over in his grave," UA Attorney Fitzgerald said today , quoting Blagojevich as saying the Senate seat is "a bleeping valuable thing. You just don't give it away. ... I've got this thing and it's bleeping golden."



Robert Grant, FBI special agent in charge of the Chicago office, characterized Illinois' place in the pantheon of political corruption.

"If it isn't the most corrupt state in the United States, it's certainly one hell of a competitor," Grant said. "Even the most cynical agents in our office were shocked."





So far, Fiztgerald said he had uncovered no evidence of misbehavior on the part of Barack Obama. "I should be clear that the complaint makes no allegations whatsoever about the president-elect or his conduct," he said. But he also made clear that his investigation was hardly complete ! ! !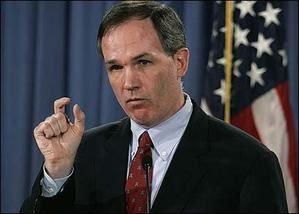 Do you realize what it means ?

The current US Attorney obliged to make a public statement about the "honesty" of the new president ? ? But he makes it clear that there could be new developments in coming weeks...

Never seen before !




That's the reason why the fall of Gov. Rod Blagojevich is going to continue to haunt Obama, not to mention Chicago's Democratic establishment where he built his roots.
The President of the United States has a higher burden than just about any elected official anywhere. His staff will be called on by the press to account for all their conversations with Blagojevich and his aides. Obama will have to explain what he knew about these discussions. The bit players in the complaint, like the unnamed Senate Candidate 1 and Senate Candidate 5, will have to come forward and explain their involvement. If the investigation continues into next year, which seems likely, there may even be calls for the appointment of something like an independent counsel at the Justice Department to avoid any hint of political interference. Obama's staff and political allies may be forced to get attorneys of their own.

So far, apparently, the bugging and wire tapping of Blagojevich suggests that Obama was not playing in the corruption scheme.

But, as Fitzgerald has said, this is only the beginning of the investigation
Do you remember what happened first, in the Watergate scandal ?
Nixon claimed he knew nothing...

Then the whole thing went on and on...
Nixon continued to deny... He was even reelected...

But then two journalists came...

And his guilt was proved...

The problem is...

Which journalist would be ready today, to investigate on the new president elect ?


What is sure to happen however, is that many more questions will be asked to people close to Obama in coming weeks...
No doubt , this will continue to be a burden for the president-elect and those around him.



Day after day, the number of scandals in which Obama is involved is growing.

When will American people realize they have elected a criminal to the presidency ?