So it has eventually happened...

Hillary is now going to work in the new administration in Obamaland...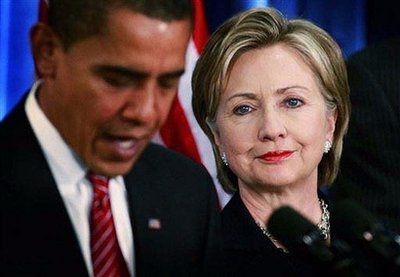 Monday December 1st : President-elect Barack Obama introduces Senator Hillary Clinton as his choice for secretary of state during a press conference in Chicago, Illinois. Obama nominated Clinton to be his "tough," "smart" secretary of state as his former foe vowed to give her all to steer America through a storm of international crises.(AFP/Getty Images/Scott Olson)

It is very exciting to think about what is going to happen between the pair in coming months. What is funny is that we are coming to understand that they are not so different, finally.
When we try to analyse why, on the one hand, Obama offered Hillary the job, and why, on the other hand, she accepted it, we realize that their respective motivations are first and foremost political calculations.



What was Obama' s interest ?
For him, the aim was clear : getting rid of the person who has been, so far, his fiercest political opponent. It has to be aknowledged indeed that Hillary doesn't exactly have a track record of loyalty to the new president-elect either. On the contrary, for most of the past year Hillary was not just Obama's most serious Democratic rival, but she was also his most vicious opponent.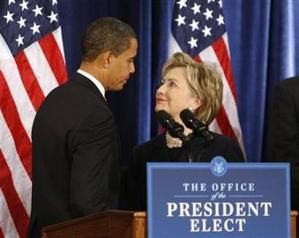 President-elect Barack Obama announces that Sen. Hillary Clinton will be his choice for Secretary of State during a news conference in Chicago December 1, 2008.(John Gress/Reuters)


Most of the nastiest attacks on Obama in this past year were launched not by John McCain's Republicans, but by Hillary's Democrats. That Obama lacked experience; that he had a secret, fanatically radical past; that, being from Hawaii, he might not be "really" American; that being black, he would have trouble winning "white" states in the presidential election: all of those notions originated with Hillary or her surrogates, or with Bill himself. John McCain must have appeared like a lamb to the Obama team, compared to Hillary !

So for Obama, putting Hillary on the team at the top means forcing her to be loyal to him, and eliminating all risk of any form of criticism from the Clinton couple. For him, it is certainly much safer to have Bill and Hillary on his side, rather than against him !
For Hillary, we have already explained that she has a lot to gain as SOS. She will be a key player on the international and American political scene, and this can only improve her résumé. It is clear she has not renounced her presidential ambitions, either for 2012 or 2016.

In any case, what will be interesting to observe, will be the exact sort of relationship that will exist between the new president and his Secretary of State.
Remember that in the American political system, the Secretary of State functions as a spokesman for the President abroad. But when Hillary talks, many will wonder if she is speaking on behalf of President Obama, or on behalf of herself, her husband, and the present and future interests of Clinton Inc. !
Senator Hillary Clinton leaves a news conference arm-in-arm with President-elect Barack Obama after being announced as his choice for Secretary of State in Chicago, December 1, 2008.(Jeff Haynes/Reuters)