BREAKING NEWS : HILLARY TO BE NOMINATED TOMORROW !
The US President-elect Barack Obama is going to nominate on Monday New York Senator and former First Lady Hillary Rodham Clinton as the country's Secretary of State , leading world information agencies reported, citing Democratic party sources.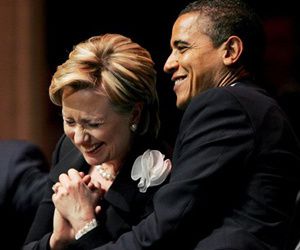 Obama is going to announce the nomination at a press conference in Chicago, according to the same sources, who have spoken off the record and have wished to remain anonymous.

As part of an agreement with Obama, former President Bill Clinton has agreed to publicly disclose the names of more than 200,000 donors to his foundation in order to clear the way for his wife to become Secretary of State, Democrats close to both sides further said Saturday.

Bill Clinton has never before revealed his contributors, but, according to the New York Times, the Saudi royal family, the king of Morocco, a foundation linked to the United Arab Emirates, the governments of Kuwait and Qatar and a tycoon who is the son-in-law of Ukraine's former authoritarian president are among them.

The disclosure of contributors is one of nine conditions Clinton signed off on during discussions with Obama's representatives, the New York Times further reported.


The former President has also agreed to submit his personal speeches and business activities for review first to State Department ethics officials and, if necessary, to the White House counsel's office.
SO OBAMA HAS CHANGED HIS MIND ONCE AGAIN :
Here is an extract from a memo released by the Obama campaign in March aiming at proving that Hillary was wrong to criticize Obama's lack of foreign policy experience, because she herself hadn't passed the commander-in-chief test.
"When your entire campaign is based upon a claim of experience, it is important that you have evidence to support that claim. Hillary Clinton's argument that she has passed "the commander-in-chief test" is simply not supported by her record," Obama adviser Greg Craig says in the memo.
"There is no doubt that Hillary Clinton played an important domestic policy role when she was first lady," Craig continues. "It is well known, for example, that she led the failed effort to pass universal health insurance. There is no reason to believe, however, that she was a key player in foreign policy at any time during the Clinton Administration. he did not sit in on National Security Council meetings. She did not have a security clearance. She did not attend meetings in the Situation Room. She did not manage any part of the national security bureaucracy, nor did she have her own national security staff. She did not do any heavy-lifting with foreign governments, whether they were friendly or not. She never managed a foreign policy crisis, and there is no evidence to suggest that she participated in the decision-making that occurred in connection with any such crisis. As far as the record shows, Senator Clinton never answered the phone either to make a decision on any pressing national security issue -- not at 3 AM or at any other time of day..."
NO COMMENT...