A "GREEN" PRESIDENT ? NOT REALLY !
A few days ago, Barack Obama promised to write a "new chapter in America's leadership" on the environment.
He appeared in a video during a summit convened by Arnold Schwarzenegger, and he repeated the pledge he had already made during the campaign : to make a decisive break with George Bush on the environment.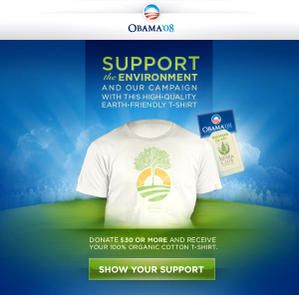 In his address, the president-elect accused Bush of failing to show leadership on the issue of climate change. "That will change when I take office," he said.
He went on to lay out an ambitious agenda, beginning with targets aimed at reducing greenhouse gas emissions to 1990 levels by 2020. He also reiterated a campaign pledge to invest $15bn each year in the development of clean technology — including "clean" coal and nuclear power.
"This investment will not only help us reduce our dependence on foreign oil, making the United States more secure. And it will not only help us bring about a clean energy future, saving our planet. It will also help us transform our industries and steer our country out of this economic crisis by generating five million new green jobs that pay well and can't be outsourced."
However, on Monday, the world may suddenly realize with great disappointment that Mister Obama's words did not mean much too him... And on the climate change issue as on many others, the new American president seems to have flip-flopped again...
Indeed, Monday is the opening day of the annual United Nations Climate Change Conference, the latest event in the global effort to negotiate further greenhouse gas emissions cuts after the Kyoto Protocol expires in 2012.
It will take place in Poznan, Poland.
The 10,000 delegates from nearly 200 countries had hoped that the election of Obama would put an end to what they consider as an environmental nightmare, which lasted for eight years.
However, they may soon realize that the promised change will probably not happen very soon, as the new administration has already made it clear that all is not that simple, because of the economic crisis.... John Kerry, who heads the U.S. Senate delegation to Poznan, said this week such aid "would be constrained" by the economic crisis."We have to figure out what is achievable ... within one year, given our economic realities," Kerry said.
The comments are likely to disappoint developing nations such as China and India who have insisted they will only sign up to binding emission targets if the US does likewise and the developed nations that are responsible for the bulk of historic emissions provide financial support to help them develop low carbon economies.
Kerry also warned high profile breakthroughs were unlikely next week. "This is not a negotiation session," he said. "This is a negotiation to set up a glide path going into Copenhagen."
Of course, the problems Obama will inherit are huge. Scientists say the world needs to reduce greenhouse gas emissions rapidly over the coming decades. That means shifting from cheap energy like coal to cleaner, but more expensive, alternatives. And nations around the world must act together.
But governments around the world are far from agreeing on a strategy for dealing with climate change.
Obama has some ideas in mind for domestic policy. For starters, he says he intends to invest heavily and quickly in jobs to build new clean energy sources such as wind and solar.
But the governments of Western Europe are pressing for far more — they want binding emissions-reduction targets and timetables for reaching those. To create those domestically, Obama will have to work with Congress to enact tough new legislation.
Margo Thorning, an economist at the American Council for Capital Formation, says many on Capitol Hill are likely to balk at legislation that replaces cheaper energy supplies with cleaner, but more expensive, substitutes.
James Hansen, a senior climate scientist who advises Obama, that to avert catastrophic impacts we must cut the concentration of greenhouse gases in the atmosphere by about 10 per cent within 20 years. To do so would require far deeper emissions reductions than anyone in the international negotiations cares to contemplate.
In Poznan, all hopes are pinned on Obama – too much so. He is elevating the climate change issue and promises helpful policies. In rhetoric, he's a bright star to Bush's black hole. But he hasn't shown he's willing to push hard enough to get anywhere near Hansen's target.
We need dramatic change, not policies that pretend we can get by with a slightly more efficient version of business as usual.
Obama's goal for emissions reductions by 2020 isnowhere near what Kyoto calls for even by 2012. His stimulus package includes drilling for oil off the U.S. coast, with royalties to support renewable energy. That's akin to slicing your leg to draw blood for a transfusion. Beset by lobbyists and cautious advisors, he's dropped suggestions he'd let energy prices rise to shift behaviour.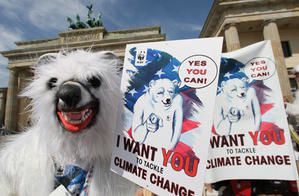 Environmentalists in Berlin demonstrate in favor of climate protection during a visit by Barack Obama in July. Europeans are pressing the president-elect to agree to ambitious targets for reducing carbon emissions. Ralph Orlowski/Getty Images
The recommendation is a central part of a lengthy wish list of policies sent to Obama's transition team Tuesday by a coalition of environmental groups.
Last Tuesday, - a broad coalition of 29 of the nation's leading environmental and conservation organizations urged the president-elect to swiftly reverse "eight years of environmental neglect" under the Bush administration.elect Barack Obama can revive the U.S. economy - and aggressively combat climate change - by investing in clean energy technologies and strengthening environmental protections, the leaders of major U.S. environmental groups advise.
"Our economy is suffering and so is our environment," Larry Schweiger, head of the National Wildlife Federation told reporters on a conference call. "The solutions to both go hand in hand."
The groups contend that difficult economic times provide opportunities, rather than obstacles, to tackling the daunting issues of climate change, clean energy and environmental protection
"Generating green collar jobs, making our offices and homes more efficient, rebuilding our water infrastructure, reducing our dependence on oil, reviving our ailing landscapes - these are solutions that can lead directly to economic prosperity, greater social equity and even enhanced national security," the coalition said in the 391-page report.
The solution to the nation's economic problems "is a new green economy," said Gene Karpinski, president of the League of Conservation Voters. "Delay is not just bad for the planet, it is bad for the economy."
Along with the climate and energy recommendations, the groups call for a slew of policies to safeguard the Arctic, as well as steps to increase protection for wetlands, national parks, wildlife refuges and other public lands.
The report recommends increased funding for conservation programs, stricter oversight of energy production from public lands and tighter air pollution standards.
The groups want Obama to reinstate a federal moratorium on offshore oil and gas drilling along with a Clinton administration rule protecting roadless areas in national forests. They also want Obama to restore protections for endangered species weakened by the Bush administration.
So far, Obama has not answered those groups directly.
The only response he gave to environmentalists so far was that "the new president will not attend the conference in Poznan, because there is only one president at a time"... No one from his transition team will be present, because Obama has insisted that he is not seeking to undermine president Bush's authority at the talks.
However, there will be a "shadow delegation" :
indeed, Kerry said he will be reporting back to president-elect Obama on the conference and effectively forms part of a shadow negotiating team for the incoming president alongside Minnesota senator and Obama supporter Amy Klobuchar.
No doubt that will reassure environmental organizations !
In fact, Obama only hopes he can delay the whole matter for a while...
As he has not been inaugutated yet, and is not the official president, he is not obliged to take decisions as early as next week. Not deciding anything in Poznan will enable him to let the world believe he is a "green president". And Poznan will not lead anywhere, and once again, the Bush administration will be blamed...
It will be a missed opportunity for American, but the planet should start to get used to it, because, in coming months, this is how things are going to turn out with a man who has promised a lot, but who will not do anything... Blah, blah, blah...