This has not been the first time; and it may not be the last time either.
The scenes are becoming that much more routine and common : hotels burning, explosions going off, and the bodies of the innocent being carried away
In the last seven months or so over 500 people have been killed – most of them innocent civilians – in merciless terror attacks in major cities by both Islam and alleged Hindu extremists.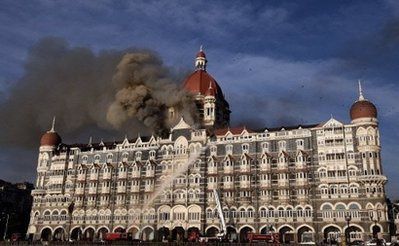 Indian firefighters attempt to put out a fire at the historic Taj Mahal hotel in Mumbai. Special forces have stormed a Mumbai Jewish centre and battled to free guests at two hotels, as India blamed Pakistan for an audacious Islamist militant attack that left at least 130 people dead.
What is even more shocking and terrifying, especially in the present Mumbai terror, is the obvious message that comes alive as a powerful symbol: India is a haven for terrorists and

the carnage in Mumbai served yesterday as an urgent and disturbing reminder to Barack Obama, the US President-elect, that the spectre of foreign terrorism is just as likely to challenge him in his first days in office as are the continuing stumbles of the domestic economy.
This must not have come as a surprise for the new president. Al-Qaida was expected to test the new Obama administration almost immediately to see what it is up against in the next chapter of the war on terror.
And it has just been reported that New York police stepped up surveillance of the city's subway system on Wednesday after vague warnings of a possible attack over the Christmas holidays.
The attacks are deeply alarming to the United States.
Although there was no word of Americans being among those killed, witnesses in Mumbai said the terrorists had singled out Britons, Americans and also Israelis as they stormed the hotels. There is also an acute awareness that, in the seven years since 9/11, India has emerged as the most important ally to the US in the region, which may have made it a target for terrorism.
"If the terror threat spreads from Pakistan and Afghanistan to the important American ally, India, that's an enormous problem for the United States," David Gergen, an ex-presidential adviser and commentator warned.
The horror in India will now force Obama quickly to spread his focus also to international issues. Helping India recover from its trauma and bring the captured terrorists to justice as well as the broader issue of foreign-bred terrorism will now by necessity be at the top of his agenda. Already as candidate he spoke of a rapprochement between India and Pakistan as holding the key to winding up terrorism along the border with Afghanistan.
Foreign policy almost totally disappeared from the political scene during the last stage of the campaign because of the severe economic troubles caused by the credit crisis, but now the harsh reality is surfacing again : America is struggling abroad, in Iraq and Afghanistan, and apparently Barack Obama intends to continue eight years of a disastrous defence policy.
The MSM is welcoming with applause Obama's likely decision to keep Defense Secretary Robert Gates. But is it really what the people who believed in "Change" wanted ?
Robert Gates is George Bush's secretary, and Obama campaigned on the necessity to start a new foreign policy, in order to restore America's image abroad. Does Obama think that change is possible with the same men, and in particular how could the boss bring something new if he remains the same ?
When a company wants to avoid bankruptcy, it dismisses its failing managers, and hires new ones. On the contrary, Obama shows he still trusts Robert Gates, whereas Gates has been Defense Secretary for two years now, and America's wars have been worsening.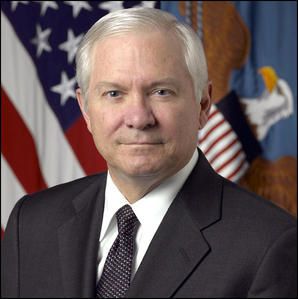 Robert Gates ; Change We Can Believe In ? ?
Defense Secretary Robert M. Gates has agreed to stay on at the Pentagon well into next year, providing some continuity as the nation fights two wars and putting a Republican face on President-elect Barack Obama's Cabinet, two officials with direct knowledge of the transition team's deliberations said.
The announcement that President Bush's Pentagon chief will keep his job is slated for next week, when Obama plans to introduce his national security team - which is also expected to include Senator Hillary Clinton as secretary of state, the officials said.
Gates, 65, is a registered independent, and is said to be widely respected in both parties for his pragmatic instincts. But Gates is a symbol of continuity, not change.
And to confirm this lack of change, yesterday, it was revealed that not only does Obama not intend to put an end to these two costly, deadly conflicts, but he even plans to send thousands of additional soldiers to Afghanistan.
The need for more US troops in addition to the 32,000 already serving, has been accelerated by the Afghan presidential election in September 2009, and the voter registration process that begins in the New Year, Mr Gates said.
"The most important objective for us for 2009 in Afghanistan is a successful election," he said at a meeting of defence ministers from the eight countries fighting in southern Afghanistan. "One of the things we talked about was trying to surge as many forces as we can prior to the election, to try and provide a secure environment for the election."
The Pentagon chief, who has been in the position for two years, added that he wanted to send another three brigades of combat ground forces and an aviation brigade, beginning as early as next spring.
Therefore, the decision to retain is bound to anger antiwar activists who supported Obama early in the campaign and are holding him to his pledge to withdraw US combat troops from Iraq within 16 months of taking office.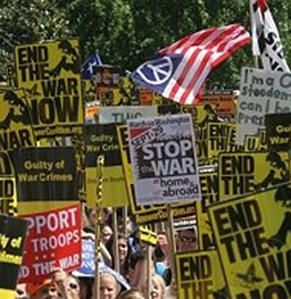 Mr Obama is expected to reveal his national security, defence and diplomatic appointments next Monday.
And once again, these anti-war demonstrators will feel betrayed : the names floated for Barack Obama's national security team are drawn exclusively from conservative, centrist and pro-military circles without even a single -- yes, not one! -- chosen to represent the antiwar wing of the Democratic party.
So the conclusion to all this is simple : Obama has flip-flopped once again.
He has achieved a remarkable transformation of himself : from the Anti-War candidate to the "War President"...