Are you ready to be moved to tears for this very special day ?
If you are sensitive and romantic, and fairy-tales make you cry, this beautiful story is for you.
READ CAREFULLY : (and prepare yourselves to a rare moment of intense emotion)
Once upon a time, the new president elect of the first world's superpower decided to take out his family for a walk in some economically-depressed neighborhoods of the city where he lived, to show his children and his wife what life really looks like, and to teach his perfect daughters how to be charitable and generous towards the needy.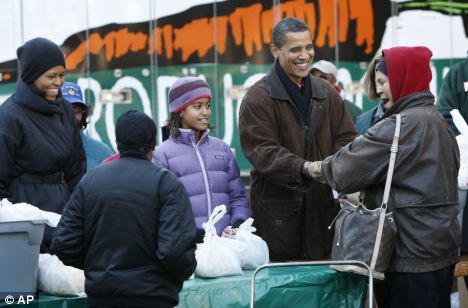 Barack and Michelle Obama and their daughters Sasha, 7, and Malia, 10, distributing Thanksgiving turkeys in Chicago this week
That was Thanksgiving.
The nation was celebrating this particular moment in its history when it all began : the Pilgrim Fathers, the Indians, united together to thank God for blessing America and enabling them to survive during these terrible first winters...
For the first time since many years, the mood was particularly festive throughout the country. After months and months of depression, sadness, and despair because of a failing administration, all Americans felt confident again, and hopeful for the future.
And the reason for this restored confidence was a Man.
A Saviour.
A Messiah.
There he was.

In the streets of Chicago, with his charming wife and adorable daughters.
Barack, Michelle, Malia and Sasha, were handing out chicken, potatoes, bread and other food at St. Columbanus Church at 71st and Calumet Drive in Chicago's predominantly black south side.
The mere vision of this Selected One provoked stir and hysteria in the whole neighborhood.
Suddenly, the poor and the homeless, who had been struggling to survive for months, felt happy. They knew that now nothing wrong could happen to them.
The Great Man had brought them food.
He had decided to take care of them.
Thanks to him they would be able to eat some turkey on Thanksgiving !
What a miracle !
Never. Never again would they be hungry. Now he was to provide for their needs, for he had taken command of the nation.
Thank you !
Thank you, Mister Obama.
Thank you, Mister President !
They all cried...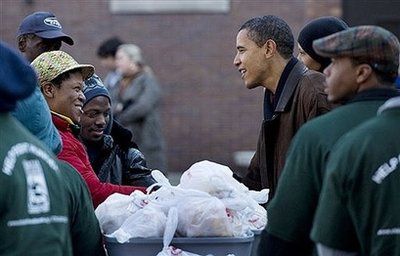 And do you know what he told them ?
He told them :
"You can call me Barack."
What ?
The new president elect, the Messiah told them to call him "Barack" ,
How incredible !
But what those people did not know, as they had not followed the news very attentively, because of the kind of existence they were leading, not having the opportunity to read the paper every day, what they did not know was that this Man, this Saviour, this generous Messiah, had collected almost a billion dollars over the last few months.
So for him, it was not much of a financial sacrifice to offer them chicken, and a few potatoes.
Suddenly, we are back to the nineteenth century, when the rich and wealthy visited the destitute, bringing them baskets of food for Christmas.
But the world has changed. This is not charity that these people need.

Obama and his wife have just shown how arrogant, condescendant, scornful they are. Of course, this little outing in the streets of Chicago was part of a perfectly orchestrated operation of communication.
The pictures of the new First Family distributing food in the streets of Chicago was intended to be broadcast on all TV channels, in the USA and all over the world.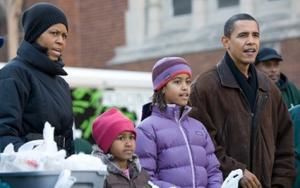 But once again, there is nothing, nothing at all behind this act.
About 600 families got food this year at this local food bank in this Chicago district, up from 270 families last year.
So, how are we to interpret this rising number ?
Were people particularly looking forward to seeing the Obama family ,
Or was it rather a sign of worsening economic times, and a deepening economic crisis, with more and more people in need who cannot afford a good Thanksgiving meal ?
And instead of thanking him, these people should have asked him :
Mister Obama, what do you intend to do concretely for us in coming months ?
But this is another story..
One that does not fit this fairy-tale...