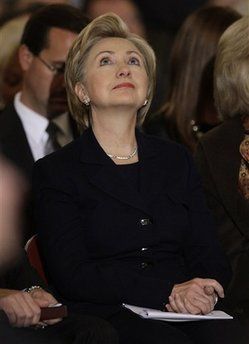 Sen. Hillary Rodham Clinton, D-N.Y., looks up during a memorial ceremony for the late Pennsylvania Lt. Gov. Catherine Baker Knoll in the Capitol rotunda in Harrisburg, Pa., Friday, Nov. 21, 2008.(AP Photo/Carolyn Kaster)
Some reports say the announcement is imminent, and the deal is closed : Hillary is going to accept the job. But Philip Reines, her spokesman, declared yesterday that it was "premature" to assert that Hillary will be Obama's Secretary of State, although things are on track.
Let's make a brief summary of events :
The news that Sen. Hillary Clinton was President-elect Barack Obama's choice to become secretary of state emerged in a dizzying series of news reports based on sightings, leaks, counter-leaks, rumors, qualified confirmations from the Obama transition team :
Thursday, Nov. 13:

Andrea Mitchell of NBC News reports that Obama is considering Sen. Hillary Clinton as a potential secretary of state. News reporters see her motorcade outside Obama's Chicago headquarters that night.

Saturday, Nov. 15

: The Associated Press reports that former President Bill Clinton's foreign deals could cause complications if Obama picks Hillary Clinton. This becomes the prime point of media speculation for days.

Sunday, Nov. 16

: Bill Clinton, speaking at an economic conference in Kuwait, says that his wife would be a "really great" secretary of state.

Monday, Nov. 17

: The Guardian, a London newspaper, reports that Hillary Clinton has decided to accept the post of secretary of state.

Wednesday, Nov. 19:

Bill Clinton offers concessions about opening previously private data about his donors to the Obama camp if that'll help Hillary Clinton become secretary of state.

Wednesday, Nov. 19:

The Associated Press reports that Clinton engaged lawyers to help Obama "vet her candidacy."

Thursday, Nov. 20:

The New York Times reports that Bill Clinton is said to agree to conditions set by Obama's transition team regarding potential conflicts of interest if Hillary Clinton becomes secretary of state. It also reports of growing tensions between the Clinton and Obama camps over all the leaks.

Friday, Nov. 21

: Senate Democratic leaders, The New York Times reports, have discussed giving Clinton an "undefined leadership role" in the Senate if she doesn't become secretary of state.

Friday, Nov. 21:

The New York Times, citing "two confidants," reports on its Web site in the afternoon that Clinton will accept the position. Neither Clinton's office nor Obama's camp would neither confirm nor deny the report.
Now what can we do but "wait and see" ?