BILL AND HILLARY : SPECULATION IS GOING ON...
Contradictory information is being released today.
We have just learnt that finally, Bill Clinton, who was reluctant yesterday to publish his list of donors, would be ready to do so, in order to help his wife get the SOS job.

This afternoon, negotiations between the Clintons and President-elect Barack Obama's transition team are said to be rapidly moving toward a formal offer of secretary of state for Hillary,with both sides expecting a formal announcement in the next seven days, according to numerous officials who are involved.
And Bill Clinton would be even ready to satisfy Obama's vetting team, by giving up foreign sources of income if his wife becomes secretary of state, according to a close friend.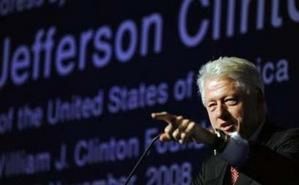 Former U.S. president Bill Clinton addresses an audience in Kuwait on November 16,2008. Kuwait's largest bank National Bank of Kuwait, hosted an economic symposium on Sunday. Clinton said that he did not know if his wife will be the Secretary of State, but he said, if she appointed, she will be a great Secretary of State.REUTERS/Stephanie Mcgehee (KUWAIT)



The friend said the former president is willing to make "changes" in his lucrative post-White House career.
"There'll be things that he did in the past that he won't do now," the friend said. "He's open to looking at what the Obama people think make sense. The Obama people will say, 'Here's what we're comfortable with you doing.' And President Clinton will look at it and most likely, say, 'OK, I can do that.' Like her, he wants the best for this country. My read of the situation is that he's open to working something out — that everybody's happy. It doesn't feel to me like that's going to be terribly difficult."

Now the problem is it is very difficult to say what is true or false in all these rumors, and the situation is becoming more difficult to understand by the minute.

If Bill Clinton yields once again to Obama' s demands, and if Hillary becomes a Cabinet member of a man who is a fraud, I really wonder what to think about the Clinton couple.

Frankly, these are not the Clintons we used to know...

What happened to them ?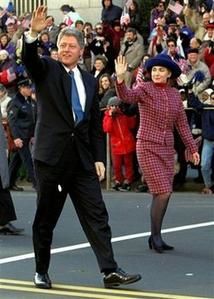 Bill and Hillary : Inauguration ceremony on the 20th of January 1993.