WHY HILLARY WILL PROBABLY SAY "NO" TO MISTER O.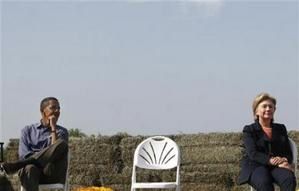 Hillary and Obama : a photo which perfectly illustrates their relationship. They have never been close ! (Iowa, September 16, 2007).


Things are happening quickly these days, and we have just learnt that Hillary might stay in the Senate after all, and take the lead of a health-care reform plan.

While President-elect Barack Obama weighs whether to give his former rival a Cabinet post, Kennedy today deputized Clinton to run a special Senate task force on health insurance reform (see link :
http://europumas.overblog.com/pages/HILLARY_ASKED_TO_HEAD_HEALTHCARE_TEAM-861648.html )


Clinton will lead "a committee working group" on insurance coverage, Kennedy announced, while Sen. Tom Harkin (D-Iowa) will oversee a subgroup on prevention and Sen. Barbara Mikulski (D-Md.) is heading up the quality task force.

Kennedy, who is undergoing treatment for brain cancer, has made clear he intends to press Obama to deliver on campaign promises to broaden and improve America's health systems. He plans to meet Wednesday with Baucus and the two top Republicans on their respective committees.
Now we can bet Hillary will prefer to stay on Capitol Hill and try to carry out her pet project, instead of running the risks of leaving the Senate to become chief diplomat.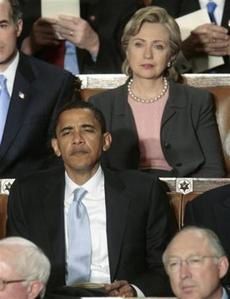 Hillary and Obama listen to George Bush' s State of the Union Speech in January 2008.




Over the last few hours, it has become clearer and clearer that Hillary has reservations about accepting an appointment as secretary of state : this is what an adviser to Mrs. Clinton who is familiar with her thinking said on Tuesday.

Press reports that portray Clinton as willing to accept the job – once the Obama transition team vets Bill Clinton's philanthropic and business ventures – are inaccurate, one Clinton insider told Politico.


The adviser described Mrs. Clinton as flattered by President-elect Barack Obama's interest but said she was agonizing over the decision. Mrs. Clinton likes being her own boss and is reluctant to give up the independence that comes with that, said the adviser, who spoke on condition of anonymity because the process was at a delicate stage.
"A lot of the speculation and reporting is out ahead of the facts here," said the person, who requested anonymity. "She is still weighing this, independent of President Clinton's work."
Clinton, the person said, remains deeply "torn" between the possibility of serving in Obama's cabinet and remaining in the Senate to "help pass health care and work on a broad range of domestic issues."
That comment jibes with what others close to Clinton have been saying since the Secretary of State chatter began last week: that Clinton is conflicted and the deal far from done, despite screaming headlines in outlets including the U.K.'s Guardian newspaper claiming the offer was made and accepted.
Most of the speculation about Clinton's frame of mind in the last few days has been off-base, sources say, because she's played her cards close to the vest, consulting only her husband and two or three kitchen cabinet advisers.
The New York Times reported Sunday that lawyers from Obama's camp were looking into the former president's dealings with foreign governments and pharmaceutical companies. Some political analysts believe that Bill Clinton's charitable affairs could cost his wife the Cabinet position or make it difficult for her to perform well if she is chosen.


Here is what the New York Times writes this morning :

"If you are secretary of state you work for the president," the adviser said in an e-mail response to questions from The New York Times. "If you are a senator, you work for yourself and the people that elected you."
It was unclear if Mrs. Clinton's stated hesitation was part of a bargaining tactic as the Obama team weighs whether to appoint her secretary of state, a genuine moment of indecision or, perhaps, a signal that she was preparing to withdraw from consideration.
Philippe Reines, a spokesman for Mrs. Clinton, declined to comment, referring questions to the Obama transition team.
The Clinton camp on Tuesday sought to rebut reports that former President Bill Clinton's finances and other interests could block Mrs. Clinton's path to an appointment.
Mr. Obama's aides this week have been reviewing Mr. Clinton's business dealings, focusing on the array of his post-presidential activities, some details of which have not been made public.
That includes the identity of most of the donors to his foundation, the source of some of his speaking fees — he has earned as much as $425,000 for a one-hour speech — and his work for the billionaire investor Ronald W. Burkle.
"Issues around W.J.C. won't be the stumbling block," the adviser to Mrs. Clinton said in the e-mail message to The Times. "She hasn't decided whether she wants to leave the Senate."
The adviser added that lawyers conducting the vetting process for Mr. Obama and aides to Mrs. Clinton made progress on Tuesday in resolving some questions around Mr. Clinton's interests.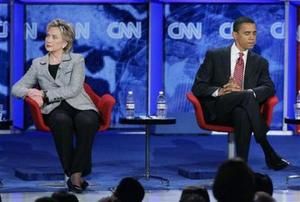 Hillary and Obama onstage during the CNN Nevada Democratic Party debaate in Las Vegas on November 15th,2007.



So, apparently, the main obstacles come from Bill Clinton.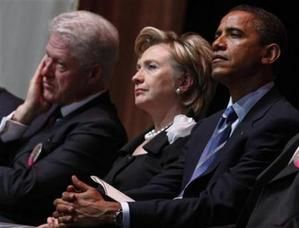 Hillary, Bill and Obama at a memorial service for Representative Stephanie Tubbs Jones in Clevelant on August 30 2008.



The all-but-public process of vetting Hillary Rodham Clinton as a potential secretary of state is, by all evidence, now focusing on how to keep her husband's sprawling global network of charitable and private activities from becoming an ethical or national security problem.

Bill Clinton's global charitable foundation might create future conflicts of interest with foreign governments.
The Clinton Global Initiative has earned praise for its efforts to eradicate AIDS, malaria and poverty in Africa. But it could prove problematic if the former president continues to arrange donations from foreign countries at the same time that his wife serves as secretary of state.
Obama's vetting team expressed similar concerns about Bill Clinton's overseas fundraising when Hillary Clinton was briefly considered for the vice-presidency.




Moreover, there are reports saying that Bill has been slow to provide information about his finances to aides to Barack Obama who are vetting his wife.
A report in Politico.com Monday asserting that Democrats "are becoming exasperated" by Bill Clinton's "pokey" response.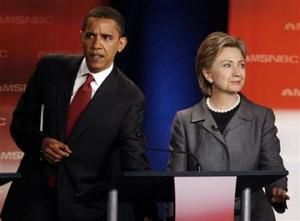 Hillary and Obama before the South Carolina Democratic presidential candidates debate : April 26, 2008.


Since he left office in 2000, former President Bill Clinton's presidential library and foundation and his philanthropic Clinton Global Initiative have grown into a multibillion-dollar web of relationships extending through some of the world's richest and poorest countries - not all of them democratic.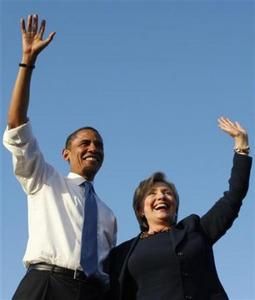 Last official meeting : Orlando, October 20th, 2008.

"She can never shake Bill Clinton's sort of nefarious dealings," said Malou Innocent, a foreign policy analyst at the Cato Institute. "No one is even questioning what her faults are. Her baggage is her own husband."
Innocent said Hillary Clinton as secretary of state "makes herself an instant target" for Republicans and Democrats, leading to what she believes will be a tough confirmation hearing and a rocky tenure.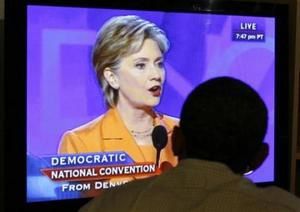 Obama watches Hillary deliver her speech at the 2008 Democratic Convention in Denver, Colorado.


"It won't be pretty," she said.
Larry Sabato, director of the University of Virginia's Center for Politics, wonders why the vetting process is taking so long.
"The general belief is that she's got the job as long as Bill Clinton's finances and everything else can be worked out," he told FOX News.
"Well that's the problem is getting him to agree, I suppose, to releasing automatically all the donors to his library and foundation; agreeing not to take money from foreign governments for either the foundation or library. He makes speeches up to $400,000 or more, many of them abroad."



While Bill Clinton is not restricted from these activities as the spouse of the secretary of state, they must be disclosed, Sabato said.
"The Obama people want it disclosed. I think that's the key consideration here" he said. "They are worried about taking on some of the Clinton baggage or having that drama play out during the Obama administration.

Sen. Clinton has engaged three prominent lawyers to help President-elect Barack Obama vet her candidacy, The Associated Press reported last night, even as some insiders criticized the pick and advisers to the former first lady said she was weighing whether to take the job if Obama offered it.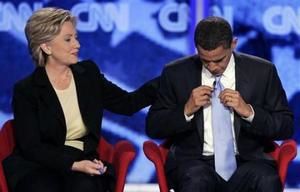 Hillary puts her arm around Obama as he unclips his microphone from his tie at the conclusion of a candidates' debate at Saint Anselm College in Manchester, New Hampshire, on June 3, 2007.


"He [Obama] is trying to figure out how to handle Bill, and quite frankly she's trying to figure out how to handle Bill," said a source familiar with the confirmation process. "You can't have foreign dictators financing the pet projects of a husband of a secretary of state."


Eisenberg and others also point to Bill Clinton's 2005 trip to Kazakhstan with Canadian mining executive Frank Giustra, who received preferential access to state-controlled uranium after Clinton gave a speech extolling reforms planned by the president of a country his own wife had sharply criticized for its human rights record. Giustra later made a $31.3-million donation to Clinton's foundation, The New York Times reported.




"The size of Clinton's operation is a factor that dwarfs the other folks," said Pablo Eisenberg, a senior fellow at Georgetown University's Public Policy Institute. "It's both a national security and a diplomatic issue. . . . Clinton has got to agree up front should Hillary be named that he will disclose his donors."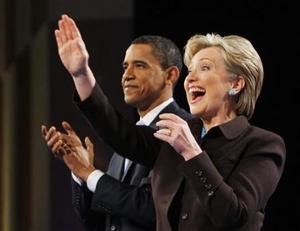 Hillary and Obama during the Los Angeles Democratic presidential debate in Hollywood on January 31 2008



Manhattan attorney William Josephson, former counsel to the Peace Corps and head of the state attorney general's Charities Bureau, said he believes the former president will have to step away for now from the philanthropy he has built. " . . . I would think that he would need to stop raising money from foreign sources - at a minimum," Josephson said. ". . . People give money for many reasons, and one is to exercise influence. . . . If he believes the work that's being done is valued and should continue, then it should be carried on by someone else."


Paul Light, professor of public service at New York University, said he believes Bill Clinton's reputation for undisciplined remarks could be a particular problem.

"Because they are husband and wife . . . it's natural to assume that he may be speaking for the administration at any point in time . . . " Light said. "The world will say, well, is there an extra meaning to what the former president is saying?"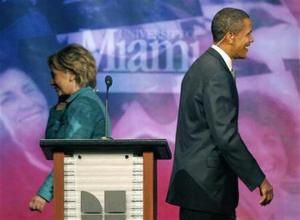 Hillary and Obama walk in different directions before the Univision Democratic Candidate Forum at the University of Miami, September 9, 2007.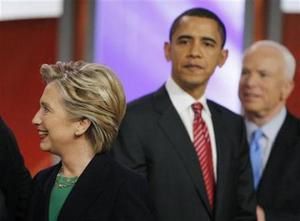 Presidential debate in New Hampshire in January.



When you see how Mister O. looks at Hillary in these photos, do you really think that the pair could work together in harmony ?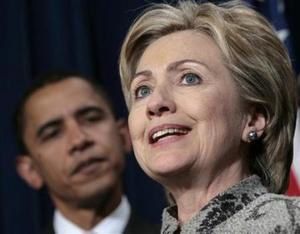 Hillary and Obama hold a news conference on a vote raising the federal minimum wage on Capitol Hill, on
the 1st of February 2007
.