Barack Obama is currently making his pick for cabinet and cabinet-level posts.

And the question that a lot of women are asking is : will he break the Clinton record ?

According to the Center for American Women and Politics (CAWP), a unit of the Eagleton Institute of Politics at Rutgers, The State University of New Jersey, Clinton's administration included at one time nine women out of a total of 19 cabinet members and cabinet-level appointees, or 47 percent women.

Bill Clinton appointed women to a total of 14 positions, more than any other chief executive.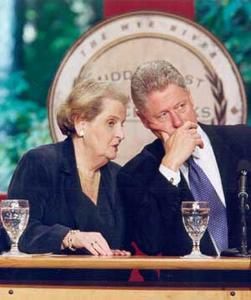 Bill Clinton was the first president in history to appoint a woman as Secretary of State : Madeleine Albright.





The first woman appointed to a cabinet post in American history : that was in 1932. The president who chose her was Franklin Delano Roosevelt. She remained his secretary of Labor for the 12 years of his presidency.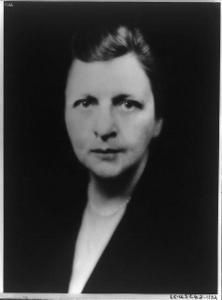 Frances Perkins




Today, five women currently serve in the administration of President Bush, out of a total of 21 cabinet or cabinet-level posts.

Women will pay a particular attention to this number when Barack Obama releases the complete list of his Cabinet members, for they know he should be grateful to them. They helped him get elected, as they voted for him in vast numbers.


His cabinet choices could insult women :Ithere is a persisting rumor in Washington that many women who voter for Obama are destined for disappointment. This rumor says only two women are considered for cabinet position, apart from Hillary : Penny Pritzker at Commerce and Janet Napolitano at Justice.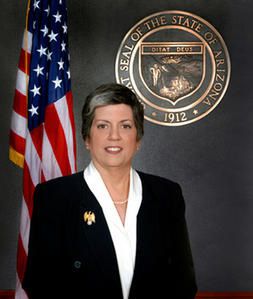 Janet Napolitano, governor of Arizona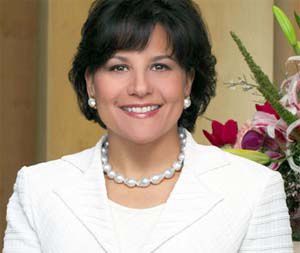 Penny Pritzker (a businesswoman from.. Chicago !)




Two is a ridiculous figure : if Hillary accepted to become SOS it would mean 3. Which means it would be less than the current number of women serving under Bush !
George W. Bush, no friend of women, according to most progressive women, has had seven women serving for part or all of his second term as president. They
were
:

Ann Veneman as secretary of agriculture until 2005, Gale Norton as secretary of the interior until 2006,
Elaine Chao
as secretary of labor for both terms,
Margaret Spellings
as secretary of education from 2005 until today,
Condoleezza Rice
as secretary of state from 2005 until today (before that she served as his national security adviser),
Mary Peters
as secretary of transportation from 2006 until now, and Susan Schwab as U.S. trade representative from 2006 until now.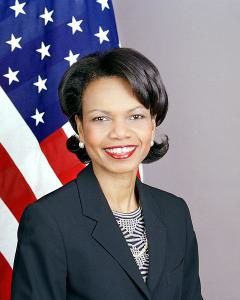 Condoleezza Rice : the most famous female Cabinet member in the Bush administration.
Will Hillary succeed her ?
Let's hope not !





Commerce, Justice, and SOS would be nothing new : there has already been women in these posts.
The real innovation and revolution would be to appoint women to key positions which have traditionally been reserved to men : Treasury and Defense.

Women deserve this, after all they have done for Obama !

In France, we have already known such historic moves : President Jacques Chirac did what no French president had done before him : he appointed Michèle Alliot-Marie as Defense Secretary.
Then, a little later, President Nicolas Sarkozy appointed Christine Lagarde as Economy and Treasury Minister last year. Once again, a revolution on the political scene...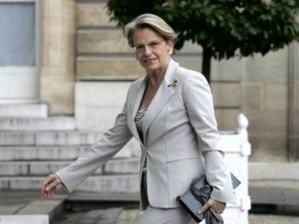 Michèle Alliot-Marie





The problem is that Obama has not shown any kind of particular respect for women so far.

First, he snubbed Hillary in August whereas she should have been his top choice for vice-president : he did not even consider her as possible pick.
Secondly, during his campaign, everybody has noticed that his top advisers were all white men.
Thirdly, when he appointed his Chief of Staff, he chose a white man once again : Rahm Emanuel, and was never said to have considered a woman for the job.

So according to me, women are not likely to emerge as winners on the 20th of January 2009.


Howevr, if I were Obama, I would remember what Abigaïl Adams once told her husband, President John Adams :

"Remember the Ladies" !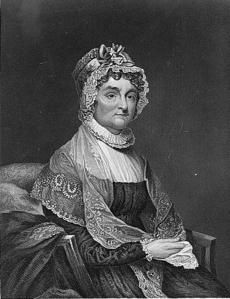 Abigail Adams (First Lady 1797-1801)





She warned him that women might foment a rebellion if men forgot them when they wrote the Constitution. Although she did not insist on full female enfranchisement, in her celebrated letter of March, 1776, when she told him to "remember the Ladies", she exhorted her husband to "be more generous and favorable to them than your ancestors. Do not put such unlimited power into the hands of the Husbands. Remember all Men would be tyrants if they could. If particular care and attention is not paid to the Ladies we are determined to foment a Rebellion and will not hold ourselves bound by any Laws in which we have no voice or Representation."
Alas, John Adams did not listen to her piece of advice, and women were totally forgotten in the Constitution, although they had played a great role in the American Revolution, and some had fought during the War of Independence, disguised as men.

So, President Obama, beware : if you forget them, American might take to the streets in fury...
And when women are angry, you never know what may happen...

"Remember the Ladies."...