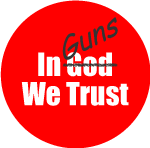 The election of Barack Obama at the presidency of the United States will probably not improve at all American people's daily lives. It will certainly worsen their living conditions in a short while, when Obama's lack of qualifications to run the country will become visible, confronted to the harsh economic reality. But meanwhile, there is a group of people who are already satisfied with Mister O's election, and who are currently earning a lot of money thanks to him : these are gun-sellers.


Throughout rural America in particular, gun sales are brisk, particularly for military-style weapons, because people are concerned about stricter gun laws after Barack Obama becomes president and Congress begins leaning more to the left.
The Anchorage Daily News today ran a story under the headline "Armed and nervous in Alaska."
Jack Murray, owner of Alaska Shooters Supply, is quoted: "Obama is the best gun salesman we've had in the last 50 years."

Nationwide, perhaps because of an expected Democratic victory, FBI background checks on prospective gun owners increased 8% in a period ending Sept. 30, compared with the same period in 2007.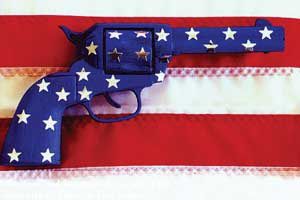 Ammunition is selling at a rate that would indicate an impending invasion, because of feared ammo taxes. "I've probably sold 70,000 or 80,000 rounds of ammunition over the past couple of days," Ken Feinman, manager of Wild West Guns, told the Daily News. "I think there's an element of panic going on, and it's pretty much universal among the shops here."
A sign atop his store reads "Huge Obama Sale ... Buy, Sell, Trade." (See photo.)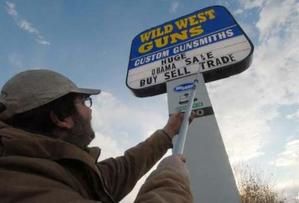 Wayne LaPierre, president of the National Rifle Assn., has been quoted as saying, of Obama, "I don't think he'll be able to stand up to that anti-Second Amendment wing of the Democratic Party that's just been spoiling for a chance to ban America's guns."


I think Mr LaPierre is right : people are totally wrong when they think Obama is determined to attack the NRA, and to impose a restriction on arms sale.

Because despite his past endorsements of some gun control measures, Obama's reaction to the recent Supreme Court decision upholding the constitutional right of individuals to own handguns mirrors the Bush administration's.
He has no intention to question the constitutional right to own and bear arms protected by the Second Amendment to the Constitution . Here is what he declared recently : "As a general principle, I believe that the Constitution confers an individual right to bear arms."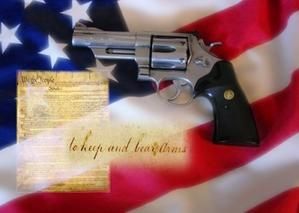 Never mind : at least, the economic crisis is sparing gun-sellers, and that is a good piece of news !