Obama is not a man to be trusted : never believe any of his promises...

This is what Hillary Clinton has just learnt, at her own expenses.
Last Sunday, we told you about Obama's betrayal on the issue of health care reform, and how Ted Kennedy had been chosen to head it instead of Hillary.


Today, another episode was added to the story.
Hillary Clinton has understood that Obama does not intend to help her pay back her debt, although he had promised to, in June, when she gave up the race and endorsed him.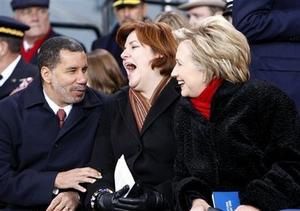 Sen. Hillary Rodham Clinton, D-N.Y., right, talks with New York Gov. David Paterson, left, and New York City Council President Christine Quinn, prior to the start of the rededication ceremony of the Intrepid Sea, Air and Space Museum in New York, Tuesday, Nov. 11, 2008.(AP Photo/Gerald Herbert)


When we know that Obama has raised almost a billion dollars throughout his campaign, and now he does not want to give Hillary this ridiculous sum : less than 8 million dollars. What a shame !




U.S. Senator Hillary Clinton (D-NY) attends a rededication ceremony of the Intrepid Sea, Air and Space Museum in New York, November 11, 2008.REUTERS/Jim Young (UNITED STATES)



Obama is so stingy that he refuses to give her this money.

So Hillary and Bill Clinton did all that for nothing !
Bill Clinton supported Obama only for that down-to-earth reason : he wanted him to pay back his wife's debt. He did not hold rallies for him because he thought Obama would be a good president for America.




Saudi King Abdullah (C) and Saudi Foreign Minister Prince Saudi Al Faisal (R) welcome former U.S. President Bill Clinton in New York November 11, 2008. The Saudi monarch and his delegation will attend a two-day United Nations session in New York on an "interfaith dialogue" he launched this year and then attend a summit of world leaders in Washington on the global financial crisis. REUTERS



Bill Clinton should have rather done his best to destroy Mister O. 's candidacy. He could have if he had wanted to. He had the power to do it.

Here is what Newsmax.com writes today :


Members of the Hillary Clinton camp are "disappointed" that Barack Obama has not followed through on promises to help retire Hillary's campaign debt — despite the support Hillary and Bill Clinton gave him during the campaign.
Hillary headlined some three dozen rallies and fundraisers after Obama was officially nominated, and Bill hosted about 20 events for Obama, according to Politico.com. The Clintons' activities in support of Obama were remarkable, considering how little Ronald Reagan and Ted Kennedy did for their party's nominees in '76 and '80.
"Yet a half-dozen Clinton insiders told Politico they are disappointed that Obama's vaunted fundraising operation hasn't reciprocated by planning new events or an Internet campaign to help Clinton pay off the $7.9 million she owes to vendors," Politico reports.
Clinton has written off the $13 million she loaned her campaign, according to aides.
Obama had reportedly vowed to help Hillary raise funds this fall and urged some top backers to donate to her campaign, but Clinton remains awash in debt.
One Clinton aide told Politico about the Obama camp: "There's just not a lot of expectation they are going to lift a finger for us."
But a former Clinton fundraiser said: "In a few months, when he's really struggling, he'll come to her for support. That's when she should ask him for money."

(http://www.newsmax.com/insidecover/clinton_campaign_debt/2008/11/11/150034.html )




Finally, I cannot help thinking that such a twist of event was expected : maybe Obama really intended to help the Clintons financially, but as he is a puppet in the hands of a team of "Clinton Haters", their refusal was predictable.


All things considered, Hillary should not have behaved as if she were Obama's "doggie", for she has not earned anything in exchange. How gullible she has been !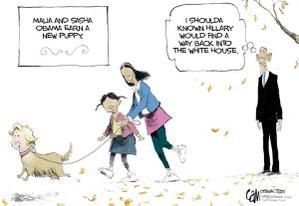 And above all, this is not good news for all the naive Americans who believed in all the promises Mister O. made during the campaign...