Now that the 2008 American elections are over, it seems necessary to have a little rest in order to try to answer a crucial question :
how did women fare in these elections ?

With the defeat of Hillary Clinton, and that of Sarah Palin, with all the shameful sexism displayed on the campaign trail, the women's cause, has apparently not improved. Although we will thank Sarah Palin in our next article for everything she brought to this race, the truth is the truth : so far, in the 21st century, no woman has yet managed to get elected president, or vice-president of the USA.




Alaska Gov. Sarah Palin greets her staff after she arrived at her office in Anchorage, Alaska on Friday, Nov. 7, 2008, for the first time since she began campaigning as Sen. John McCain's vice presidential running mate.(AP Photo/Al Grillo)


Almost 350 years after the creation of the American nation, this cruel reality cannot be denied : women do not manage to become a real political force in the world's first democracy.

In Congress, the results might be considered as encouraging at first sight, but if we look more closely at the figures, we realize progress remains very limited :
- there were 16 women senators before this election ; now there are 17...
- there were 71 women representatives ; now there are 74...
- and there are still only 8 women governors, out of 50 states, which remains ridiculous...


No "Year of the Woman", visibly...
No gender parity...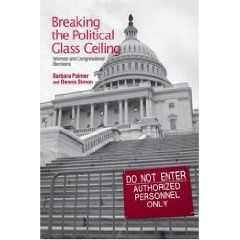 And those figures are all the more depressing that, according to the Center for American Women in Politics (CAWP), "At the statewide level... the number of women serving is expected to drop, although results are no yet complete." So, no glimmer of hope for American women...
Nothing changes...
The campaign was awfully sexist, first against Hillary, then against Sarah Palin.
And unfortunately, Obama's world is not populated by a lot of prominent women, if we have a look at his campaign team, or at the people he intends to appoint in his Cabinet or to key positions. As we wrote yesterday, Senator Kennedy will lead the health reform, something Hillary had expected to do... And I am sure a lot of other women will soon learn that Obama is no feminist...

Do you remember how he is used to paying his female staff less than the men who work for him ?