Version anglaise ; version française à paraître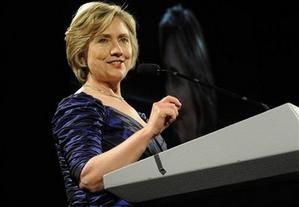 Sen. Hillary Rodham Clinton, D-N.Y. speaks to the media upon her arrival at the 17th Annual Salute to Freedom Gala on the Intrepid Sea Air and Space Museum, Thursday, Nov. 6, 2008, in New York.(AP Photo/ Louis Lanzano)

There is at least one person who is already disappointed with Barack Obama, only four days after his election.

And this person is...

Hillary Clinton !

Remember what we had told you during the campaign ? Hillary had become one of Obama's most enthusiastic supporters, because she was hoping that Obama would give her the opportunity to reform the nation's health care system, a difficult mission she had failed to carry out during her husband's presidency. Hillary had made health-care reform the centerpiece of her primary campaign.

Well, it has not taken a long time for Hillary to realize she has been wrong to believe Obama's promise.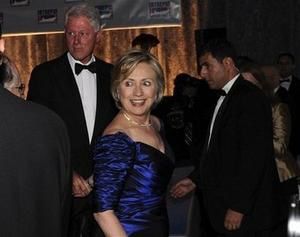 Sen. Hillary Rodham Clinton D-N.Y. and husband, former President Bill Clinton, who sat at different tables, are briefly seen together at the 17th Annual Salute to Freedom Gala on the Intrepid Sea Air and Space Museum, Thursday, Nov. 6, 2008, in New York.(AP Photo/Louis Lanzano)


For a few weeks, since she finally decided to support Obama, Hillary had tried to persuade Senator Edward Kennedy, who is the current chairman of the Health, Education, Labor and Pensions Committee, to create a special health subcommittee for her to head.

But yesterday, Ted Kennedy dashed Hillary's hopes, and made it clear that he intended to lead the reform himself, although he is currently suffering from a brain cancer.

Michael Myers, Kennedy's staff director on the committee, ended any speculation : he stated that Clinton would not chair a subcommittee. Kennedy will instead hold health-care proceedings at the full committee level, Myers said.

Edward Kennedy, and Caroline Kennedy, John Kennedy's daughter, had endorsed Obama instead of Hillary during the primary campaign, so that is probably why the Massachusetts Senator is rewarded today by the new president...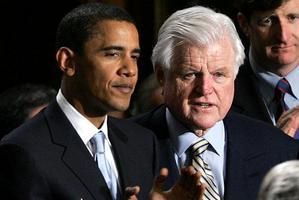 But what about Hillary ?

Has Obama already forgotten that she enabled him to become president, too ?

Hillary was apparently in such a state of shock that she did not react publicly yesterday. Instead, one of her advisers, Philippe Reines, tried to save appearances : he said that Hillary "would assist however she could" !

Poor Hillary !
She is so naive ! Did she really think Obama would entrust her with such a responsibility, after all she said about him in the primary campaign ?

In any case, one thing is sure : Barack Obama is a man who knows how to thank those who helped him be elected...